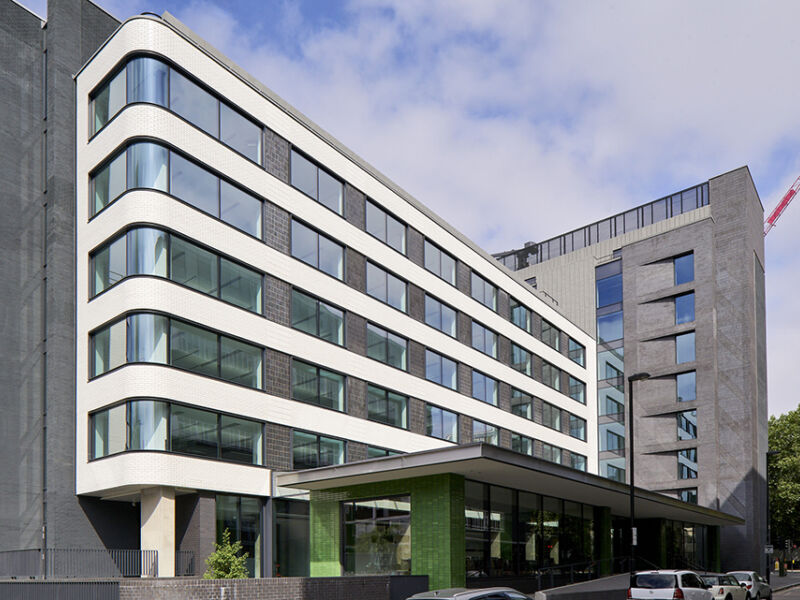 160 Old Street is a contemporary, flexible and collaborative office and retail space in the heart of Islington created from the Great Ropemaker Partnership between Great Portland Estates plc and Ropemaker Properties Ltd.  The work was redesigned by ORMS Architecture Design.
Formerly a tired and old-fashioned Royal Mail building lacking aesthetic appeal or usable space, the building was refurbished and redesigned by architecture and design practice Orms to create 153,000 square feet of stylish office accommodation over eleven floors, and 6,780 square feet of retail and restaurant accommodation to enliven the street frontage. All upper levels have access to private external terraces and three courtyard spaces transform the lower-ground levels. 
A new single storey pavilion forms the building's entrance - moved from the corner of Old Street to the quieter Bunhill Row frontage - providing an open and welcoming reception with informal, collegiate spaces for communal working and networking. 
The new aesthetics of the building sit comfortably within its surrounding context, responding to the three different urban scales of Old Street, Bunhill Row and Banner Street. Large floor to ceiling glazing allows visual connection with the surrounding streetscape, and light has been carefully manipulated to ensure that people are continually walking towards daylight with glimpsed views through openings to the outside world.
The connection between inner and outer space also evolves through the building's new sustainability, incorporating blue roofs for rainwater attenuation, photovoltaic panels at roof level, a variety of sedum and wildflower roofs, bug hotels and bird boxes, as well as a new feature tree in the street facing courtyard. The new pavilion has an overhanging green roof, and green glazed volcanic brick piers subdivide this generous reception space into a series of linked open rooms - a metaphor for the way the building is organised to maximise connectivity. 
Externally, subtle detailing of the Ibstock made, St Joris white glazed brick with blue panels using blue bricks from Ketley Brick & Tile, create a fusion of vertical and horizontal elements.  This arrangement unites the three separate buildings into a coherent composition. It uses a range of high-quality brick (with various sheens), glass and zinc cladding to weave a series of visually intriguing facades. Different bonding types enhance the design, from vertical stack-bonded blue to the St Joris white glazed bricks, alternating between vertical stack bond and horizontal running bond. The height of the Old Street facade is balanced by a double storey colonnade and a zinc-clad dormer roof with ultra-tall projecting windows to crown the elevation.  
One of the key challenges for the designers was to enjoy the building's unique history, using the strongest 'found' elements, and balancing these within a confident but sensitive modern architecture.  
160 Old Street shows how buildings that seemingly have outlived their useful life can be restored and improved with sustainable and beautiful design features, fit for the twenty-first century needs of business and the environment.