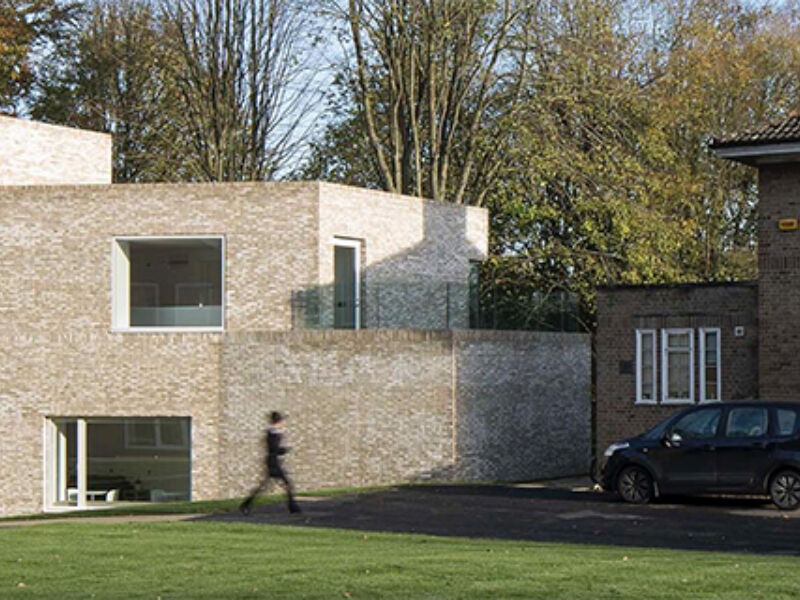 Mica Architect's new girls' boarding house for Stowe School has been introduced into one of the pre-eminent examples of the English Landscape Movement. Sheltered within a tree belt at the south west of Stowe Gardens, the boarding house sits alongside three Neo-Georgian masters' residences designed by R Fielding Dodd in 1935.
As demand for sixth form places has increased, the existing Home Park Houses have been unable to cater to the needs of the School. The new house provides 24 en-suite study bedrooms and reconciles shared functions of the existing Houses.
Tightly planned study bedrooms are clustered giving flexibility to occupancy and management arrangements. Bedrooms open onto common areas avoiding the dreaded "corridor", encouraging positive shared living experiences. Clusters are connected by double-height spaces, a feature glazed bridge, bright stairwells, and sheltered raised terraces, providing grown-up spaces for young adults that encourage freedom and responsibility.
Path, topography, woodland, and surrounding massing are playfully integrated in response to the setting. A buff brick was chosen to mediate between the earthy brown brick palette of Dodd's Neo-Georgian houses and the predominant honey-toned render of the main campus, exemplified by Stowe House. Brick enabled the massing to be expressed through homogenous playful volumes, while allowing complexity through various bonding and pointing techniques.
Arranged over two blocks, linked at high level, the silhouette is refracted into groupings of taller volumes of brick framed by terraces and parapets. A path connecting the Houses to the main campus splits the two blocks, enclosed by solid walls of neatly detailed brick and sentried by a solemn drum and tower elements, acting as gateway to the landscape beyond.
Datums are taken from Dodd's houses and described in the detailing of the brick - their common eaves level marks a parapet, with a soldier course regulating ground and first floor divisions. From these guides, volumes shift, rise and fall in curtains of brick. Windows are loosely organised in open plan spaces or aligned behind stacks of accommodation, in crisp white arrangements. Brick pointing changes from flush struck at ground floor to a subtly recessed pointing above the string course, rewarding closer observers. Terraces are finished in dark red and brown clay paving complimenting the neighbouring pantile roofs.
Highly insulated brick walls allow deep reveals made by entrances and windows, lined with brick soffits and faced lintels – utilising Ancon and Ibstock Kevington's Nexus brick faced support system. Brick detailing was developed from the architect's earlier work at the East Ham Customer Service Centre where a Roman brick was used and echoes the recessed windows and overhangs of their Passivhaus Chester Balmore housing scheme. Chosen from the same family of brick as Chester Balmore's Marziale, the architect decided upon a Wienerberger 'Bronsgroen' brick for its slight red tones. A slender 54mm x 228mm brick was chosen, changing the brick to mortar ratio, accentuating the play in brick pointing across floors while changing colour dependent on the position of the sun.