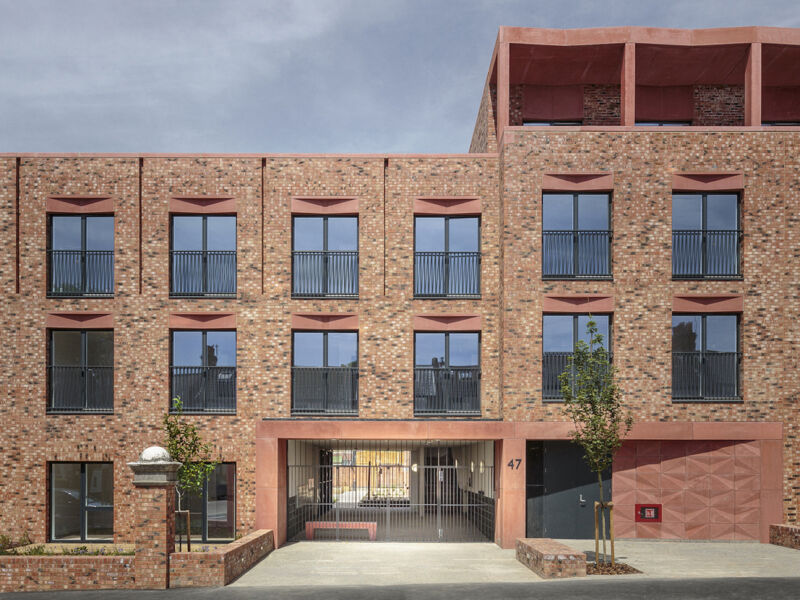 Gainsford Road, designed by Gort Scott, is a new development that provides affordable homes for first time buyers in Walthamstow, designed for Pocket Living. Located on a residential terraced street and close to the town centre, the project comprises 45 one-bedroom apartments and sensitively responds to the massing of adjacent buildings.
The design is expressed by a contemporary typology that builds upon the existing character of the surrounding area, drawing upon the legacy of carefully crafted, decorative architecture in Walthamstow. This context helped to inform the design's principal materiality of fletton brick, alongside precast coloured concrete, graphite powder coated metalwork and bespoke hand glazed tiling.
The 'Gainsford Road Blend' is a unique combination of three wirecut brick types (33% Broadway Buff, 33% Victorian Greenwich and 33% Kiln White Antique), which were coal fired and then pre-blended. This bespoke blend of smooth facing bricks, which displays random heart and dark bar markings with some antiquing and flecks of colour, is somewhat idiosyncratic, whilst closely referencing the aesthetic characteristics of the old London 'fletton' common brick.
The building itself is laid out over a T-shaped plan, with each floor connected by a generous and centrally located staircase. The building's three storeys step down to the west to accommodate the slope in topography and align with the roof height of the neighbouring two-storey terraces. A fourth storey element with a precast belvedere construction along the street façade rises to a similar height to the ridge line of the existing building on the site.
Gainsford Road was commended in the Medium Housing Development category of the Brick Awards 2019. To enter your project in this year's competition, click here