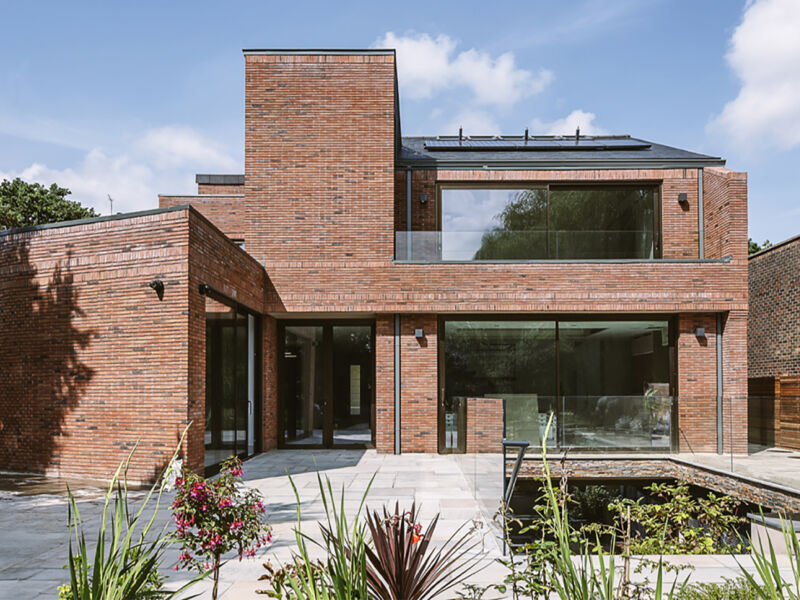 Square Feet Architects has completed a new red-brick house in Elstree, Hertfordshire, for a family of four generations. Replacing a dilapidated 1950s dwelling, the Allum Lane House comprises a three-storey structure nestled among mature trees. It is designed to meet both Lifetime Homes accessibility standards and Code for Sustainable Homes Level 4.
Reflecting the family's strong bonds, the brief was for a beautiful and functional home that would accommodate the clients, their children and grandchildren, as well as an elderly mother. The ground floor comprises extensive living, kitchen and dining space, as well as a wheelchair accessible bedroom and en-suite bathroom. Situated on the first floor are three family bedrooms, two bathrooms and a study. Illuminated by a lightwell at the rear of the plan, the basement houses a playroom, cinema, snooker table, hot tub and steam room.
The 400-square-metre house is constructed from red bricks that are laid vertically and horizontally to provide surface articulation and a modern aesthetic. "At the outset our client gave us a precedent image of the brickwork from Frank Lloyd Wright's Robie House", says Square Feet Architects director Daniel Leon. "Given his admiration for high-quality contemporary architecture and the family's Indian roots, we played with the idea of how Frank Lloyd Wright might have built a home like this in India, referencing the modernist approach of Louis Kahn and Le Corbusier."
The slim coal-fired clay bricks were favoured for their non-uniform shape, which creates a play of light and dark shades across the facade. Aluminium powder-coated drainpipes are set into the brickwork, creating crisp lines. Expansive glazing at the rear provides sweeping views over the south-facing garden and mature trees. The house also features a number of sustainable technologies including high levels of insulation, rainwater recycling and solar panels.