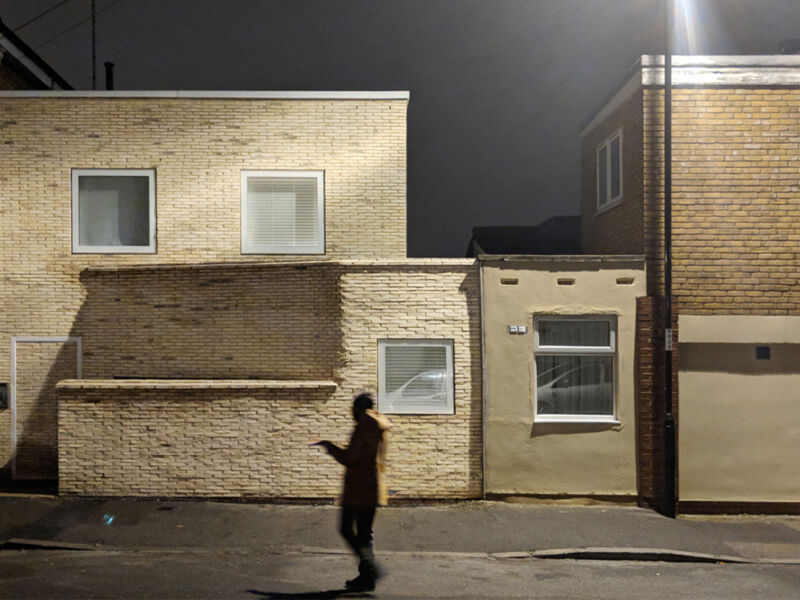 Despite its relatively modest dimensions, architect Jack Woolley exploits the design of a new-build house in south London to add cohesion and continuity to its fragmented context. Sited on a disused storage yard that previously belonged to a Victorian greengrocer's shop in Brockley, 83 Foxberry Road is sandwiched between the original commercial premises and a number of piecemeal extensions that had been added over the years to the structure to the east.
Creases in the brickwork planes of the south-facing elevation allow the facade to seemingly 'fold' between the misaligned planes of the neighbouring structures. Three frameless square windows and a white-framed brick entrance door are designed to emphasise the simplicity of the elevation.
The pale yellow bricks evoke London yellow stocks, but their lighter tone ensures the outline of the adjacent shop is "neither blurred nor lost", according to the architect. The upper storey is set back from the eastern boundary, allowing direct sunlight to reach a patio garden at the rear. This is augmented by a rooflight, which runs above the living room from the front of the house to the back.
Inside, split floor levels allow the compact site to be used efficiently while conforming to Lifetime Homes requirements. Sleeping and washing facilities are located at the entrance level with living areas above. The scheme is certified level 4 under the Code for Sustainable Homes, and features include high levels of insulation and airtightness, mechanical ventilation with heat recovery, sedum roofs, photovoltaic solar panels, triple-glazed windows, and a highly efficient boiler with weather compensation and secondary heat recovery.
The walls are cavity construction, with full-fill cavity wall insulation board. The linear bricks, laid using a stretcher bond, measure 228x108x40mm, their comparatively shallow profile distinguishing the house as a contemporary intervention in the street. While conforming to the local precedents in the use of brick, the pale yellow colour is slightly lighter than the typical yellow London stocks. The joints are bucket-handle pointed using lime mortar.