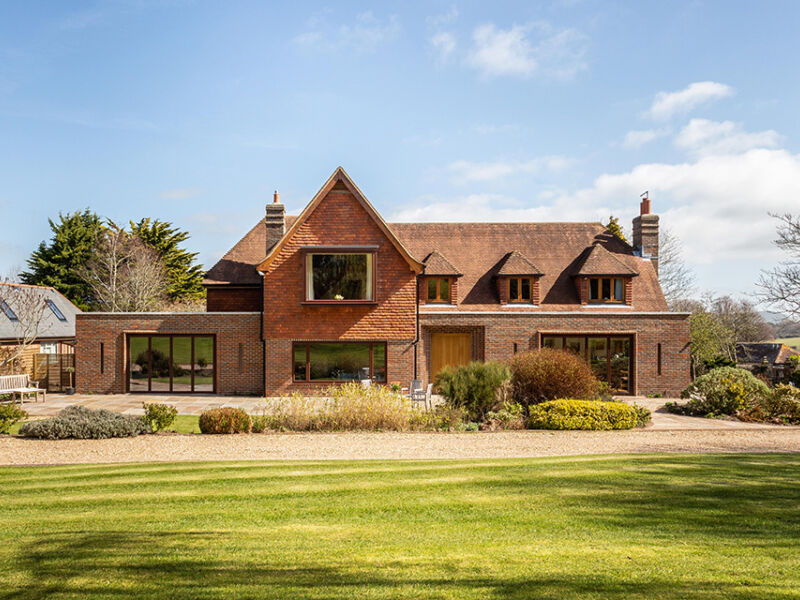 Set at the foot of the South Downs, Turner & Hoskins Architects were asked to extend this house to improve living space, and to exploit the views of the South Downs. Prior to commencing, there were 6 external doors (not including the lounge doors), and no clear main entrance to the house. Providing a clear and obvious main entrance was part of the brief, as was provision of a new dining area, and a lounge commensurate with the existing house; the existing lounge became a snug.
The original house had a lounge that was smaller than the kitchen/dining room with constrained views of the South Downs, and a small, low window within the main bedroom that felt mean and did not maximise the views of the Downs.
Set within the South Downs National Park Area of Outstanding Natural Beauty, within a Conservation Area, and adjacent to a Grade II Listed Building, there was much to consider, including significant Planning Policies relating to the Built and Historic Environment and High Quality Design, and the Dark Night Skies; the latter being a Policy seeking to prevent light pollution within the National Park.
Adding large extensions to an existing house presents challenges; the overall elevation would be long, broken by the central gable element, but in danger of becoming slab-like if proper consideration was not given to the detailed design.
The new entrance was emphasised with the stepped brick detailing, drawing the visitor into the home. The subtle use of brick banding within paving leads to the main entrance and away from the other doors, whilst a ribbon of light between the door frame and brickwork defines the door at night as the primary entrance, providing a clear, discernible hierarchy to the home.
The proposed design uses recessed, or framed openings to add visual interest, and to try to minimise light spill; the design also included automatic blinds on dusk sensors. The brick detailing included cuboid bricks to ensure crisp lines to the new main entrance door, cownose bricks to frame the large sliding/folding doors, and bullnose bricks to the windows to the side elevations. A new large oriel window at first floor provides stunning views of the hills, whilst the new large openings at ground floor provide the physical and visual connection with the garden and hills lacking previously.
As the time of day changes, so too does the play of light and shadow across the face of the building, emphasising the depth and solidity of the brickwork, and adding to the overall joy and visual interest of the building. The Brick used for this project was sourced from Michelmersh, Freshfield Lane.