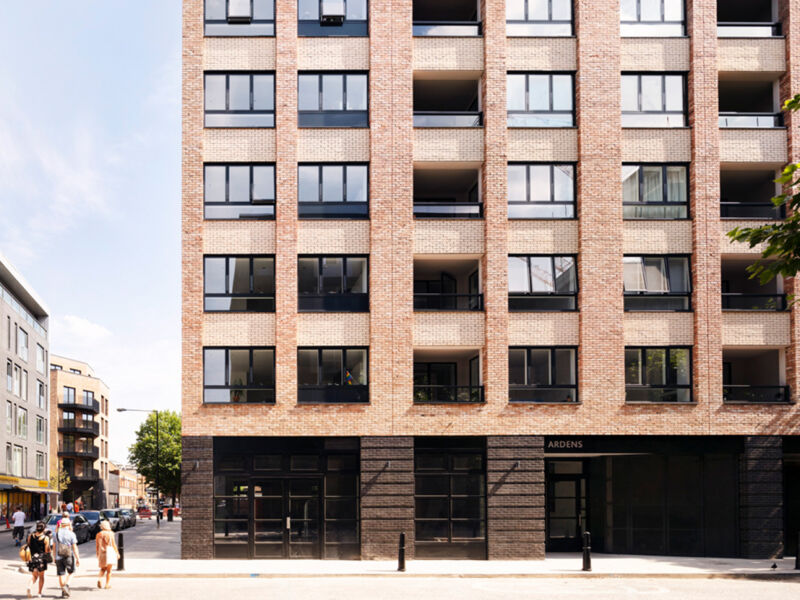 Fish Island Village is a £125 million live-work neighbourhood south of Hackney Wick and west of the London Olympics site, with an ensemble of buildings by Haworth Tompkins, Pitman Tozer Architects and Lyndon Goode Architects. Adopting a European model, the three practices worked collaboratively to achieve diversity and cohesion, taking ownership of separate elements while sharing a rigorous architectural language and materials palette of brick and precast concrete.
Built in brick, like its earlier Mint Street housing project for Peabody, Pitman Tozer Architects' Monier Road comprises 71 apartments and maisonettes for shared ownership, affordable rent and private sale – 10 are being offered at affordable rents and 5 for shared ownership through Peabody. The homes are spread across three blocks, each with its own identity and palette of materials, arranged around a central courtyard that provides shared amenity space as well as gardens for family units. There is a mix of one-, two- and three-bedroom units, while gallery access allows dual-aspect units with generous daylight.
With its brick facades forming part of the restrained palette of materials, Pitman Tozer's mid-rise building is inspired by the warehouse typology characteristic of London's industrial past. The fabric of the building is intended to be robust and durable, and employs solid bricks with deep reveals. Taking its cue from the industrial heritage of the area, each of the three blocks is named after the gas, light and energy companies that previously occupied the site: Ardens, Winsor and Ignis. The black brick base, with indented glazed bricks, provides a visual connection with the Lanterna building to the north.
Luke Tozer, director, Pitman Tozer Architects, says: "The public elevations are calm, well-proportioned and simply detailed, celebrating the beauty and durability of brick in a play of patterns along the street elevations. The inner life of the blocks continues the industrial idiom, but with a more playful and varied language. This is our second built project for Peabody and is part of our practice's ongoing exploration of new inner city typologies where as much care and attention focuses on the legacy of the public place created, as the quality of the homes themselves."
Located within a '2012 Olympic Fringe' area opposite the Queen Elizabeth Olympic Park, Fish Island Village is a joint venture between the Peabody housing association and housebuilder Hill. Stirling Prize-winner Haworth Tompkins is the masterplanning architect of the three-hectare site, with the public realm and rooftops designed by landscape architect Farrer Huxley Associates. The scheme replaces an inaccessible site of disused single-storey distribution warehouses with a collection of mid-rise buildings interspersed with new public spaces fronting onto the canal. Sited next to an existing live/work block, Omega Works, Fish Island Village opens up 200 metres of previously closed-off canal frontage along the Hertford Union Canal. The new development is intended to create a dynamic canalside neighbourhood, with a public square for local activities and spill-out space for the street-level bars and restaurants.
Phases 1 and 2 of Fish Island Village (on site to complete 2020) comprise four distinct mixed-use districts designed by the three architecture practices working in collaboration, appointed individually through Peabody's architecture framework. Pitman Tozer Architects is responsible for three blocks on Monier Road; Lyndon Goode Architects has designed Lanterna, a free-standing block facing onto a new public space at the north-east corner of the site; and Haworth Tompkins is the architect of Neptune Wharf, two clusters with 13 blocks fronting onto the canal. Monier Road and Lanterna are now complete, with residents moving in. Works continue on site at Neptune Wharf. The Trampery's low-cost workspaces will occupy the ground floors of 10 buildings across the site, with 63 flexible studios, a 50-desk co-working space, a fully-equipped manufacturing suite, a café and a variety of meeting and event spaces. The first seven studios are located in the ground floor of Pitman Tozer's Monier Road development.