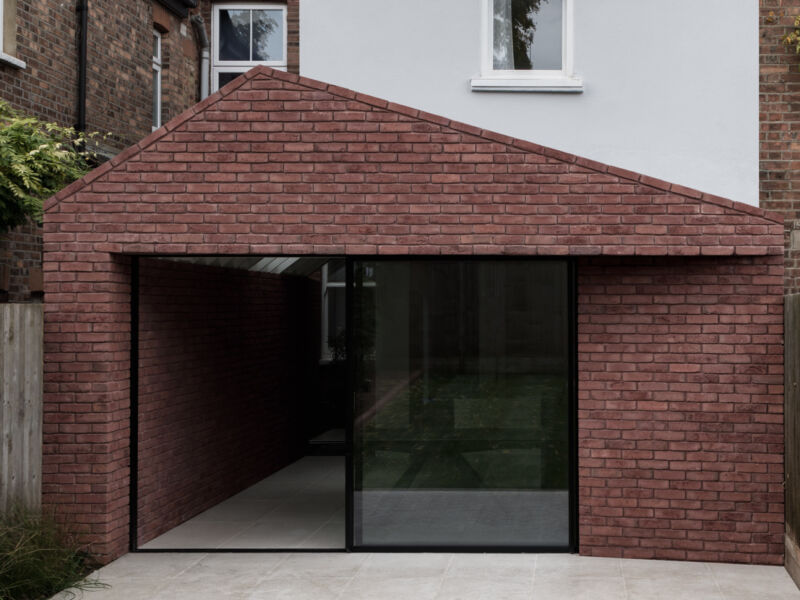 Responding to a brief to transform the ground floor of an Edwardian terraced house in North London to better suit their clients' modern lifestyle, Trewhela Williams architects conceived a minimalist extension, the focus of which is a new kitchen/diner at the heart of the family home, which draws on the warmth and character of clay brick, while celebrating the material's sculptural potential.
The introduction of a small planted light-well in the very centre of the plan provides a focal point and increases natural light to the front reception rooms. This buffer space also enables the retention of original period features such as the rear sash window, helping to protect the integrity of the existing Edwardian house.
Exposed painted rafters provide rhythm to the ceilingscape and continue past a rooflight to the vaulted ceiling above the dining table. Minimal frame sliding doors and fully recessed window frames all serve to play down their presence. Subtle details such as shadow gap junctions between finishes help reinforce the overall appearance of elemental simplicity allowing the qualities of the finishes to come to the fore. A muted material palette of light polished marble, pale concrete-effect floor tiles and white painted walls harmonise to form a restrained setting for the brickwork.
The clients highly valued the material robustness and sense of timeless offered by brick buildings. This informed the emphasis on celebrating brickwork and its craft through a sculptural approach to the overall built form. The composed simplicity and poise of the folding facade is strengthened by the careful detailing of a continuous, unadorned brickwork envelope free of any incongruous metal parts or services. Specialist details include a bespoke designed sloped brick coping (utilising restraint brackets), a brick-slip soffit system fabricated off-site and a variety of cut/bonded brick specials.
The simple purity of this singular brick form helps to sharpen the focus on the tonal qualities, waterstruck texture and intrinsic character of the bricks themselves. Their unique colour variation originates from the natural qualities of the clay and the local firing techniques used during the sintering process. The brick is paired with a maroon recessed mortar joint, which work together to compliment the red Fletton bricks of the original house. During construction rigorous batch mixing, selection guidelines, sample panels and regular quality control inspection all helped ensure a consistent and high-quality brickwork finish throughout.