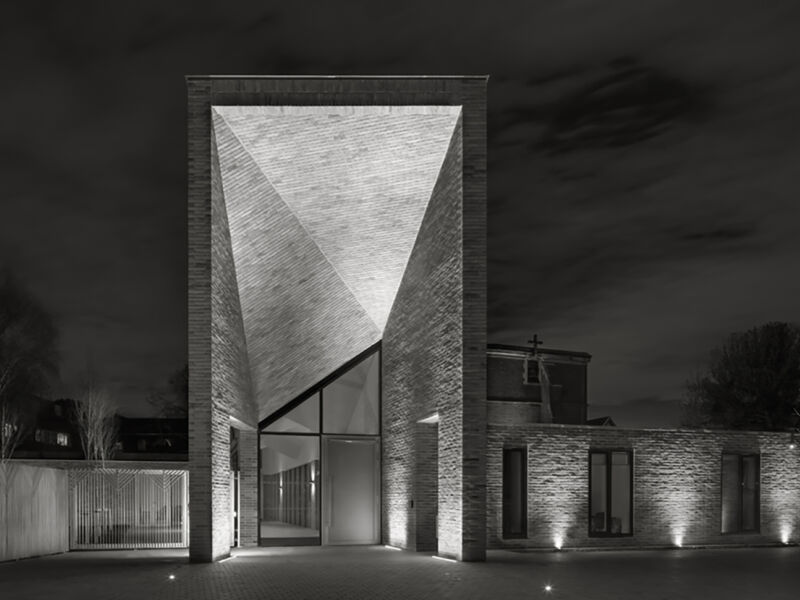 The folded brick structure of architect Piercy & Company's first civic building –Drayton Green Church, or the International Presbyterian Church in Ealing, west London – envelopes a grade-two-listed chapel, also built in brick and designed by the eminent Victorian architect John Ninian Comper in 1912-13. Set beneath a folded and pleated roof, the 12,000 square feet building provides the church with significantly increased capacity and an expressive, landmark character.
In manipulating the geometry of the built form, Piercy & Company sought to reference the pitched roofs of the local residential streets of west Ealing, while creating soaring ceilings that allude to traditional church architecture. The pleats "create a finer grained roofscape", reducing the apparent size of the building, says Stuart Piercy. "But they also have a symbolic role. As the roof rises towards the front of the site, they peak in an abstracted spire, signaling the building's ecclesiastical function."
The brick-clad structure comprises steel framing and cross-laminated timber (CLT) panels whose "warmth and familiarity bring a more domestic scale to the soaring structure", suggests the architect. Extensive physical modelling was used to refine the geometry, which in turn meant that setting out the structure by the contractor was achieved more easily. Developed over more than seven years – the project first came into the office in 2011 – the new building has been delivered to a tight budget, thanks to "the creative use of commonplace components that has elevated the project above its relatively modest means", says the architect. "Off-the-shelf materials and products are arranged in a bespoke way to create unique spaces".
While the work of Piercy & Company is unmistakably contemporary, it is rooted in vernacular forms and materials. At Drayton Green, the textured brick walls and dynamic roofscape serve to give the building prominence and relevance to the local area. Waterstruck and coal-fired bricks were specified for their characteristic texture and play of colours. The robust, familiar brickwork envelope echoes the utilitarian nature of the listed chapel, but is also softened by the light-filled interior, making for a welcoming and calm atmosphere, according to the architect.
Built as an annex to the previously adjacent St Helena's Home for 'fallen women', the inner chapel was run by the Anglican religious order Sisters of St Mary the Virgin, who left in 1980, when the chapel and associated laundry building passed to the International Presbyterian Church. The new building incorporates an entrance hall, administration and meeting spaces and a worship space for up to 200 people.