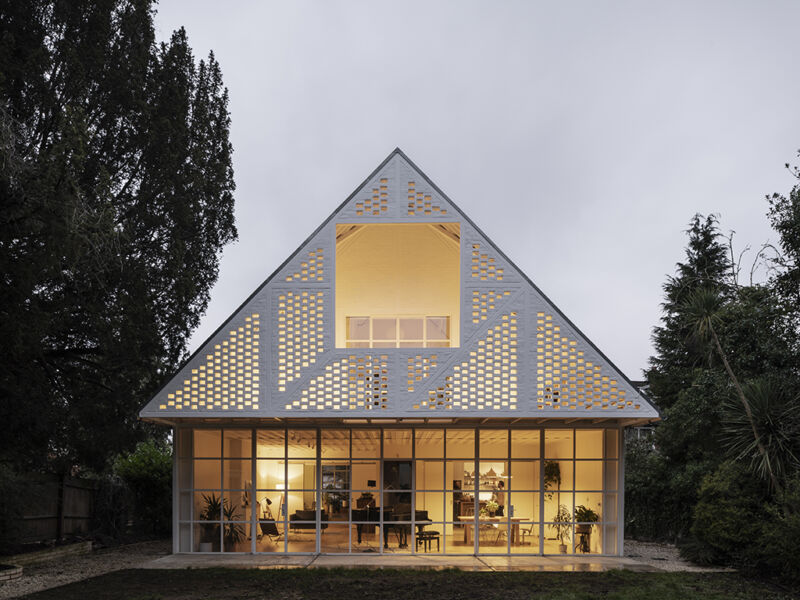 Designed by Surman Weston, Ditton Hill House is a new-build, two-storey detached dwelling located in Surbiton, London. With its pitched roof and pure white walls, it initially appears at odds with its suburban neighbours. However, its form and materiality are informed by the local vernacular – mock-Tudor. The design reinterprets this aesthetic by replacing exposed faux-structural timbers and masonry infill panels with a slender structural steel grid infilled with brick. This gives the house a solid monolithic quality when viewed from the street.
The flat-pointed bricks, which are Wienerberger's 'Super White', are brushed with a thin coat of slurry and painted off white. This gives the masonry panels an irregular softness in contrast to the crisp angular lines of the steel frame. The 'padded' quality of masonry is a nod to genuine Tudor construction, where rendered infill panels often appear to bulge out between the timbers.
On the rear garden-facing elevation, a covered balcony cantilevers over a strip of Crittall-style glazing below. Here, the steel frame is infilled with a hit-and-miss brick bond, allowing dappled sunlight through the masonry screen and into the balcony and bedroom beyond.
According to the architect, one of the main technical challenges was how to deal with the differing rates of expansion between the bricks and steel frame as a result of external temperature change. The solution was to introduce silicone strips at specific brick-to-frame junctions to facilitate movement. The strips are concealed by bushing the slurry mixture into the surface of the silicone while still tacky and then painting in to match the rest of the masonry.