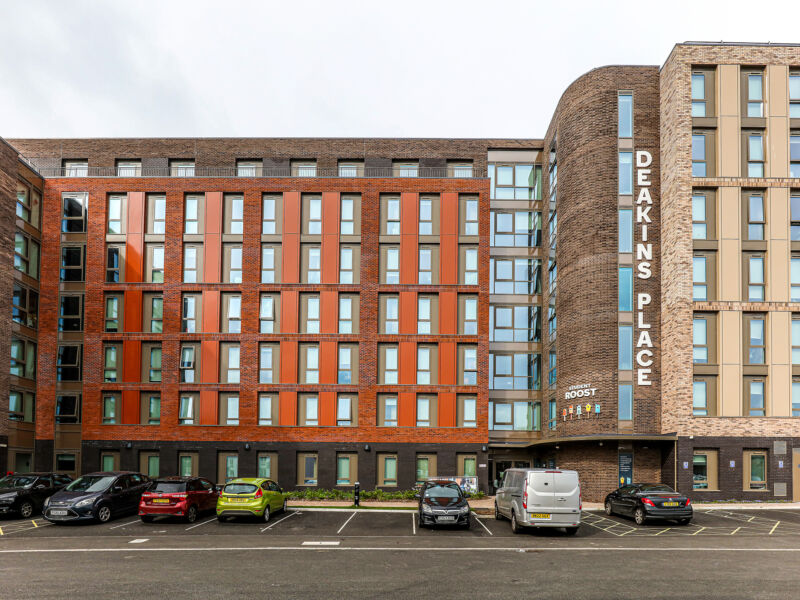 Situated close to Nottingham University's Jubilee campus, Deakins Place is a new £31.5 million purpose-built student accommodation building. It comprises 720 modern units, including en-suite rooms and self-contained studios. It also boasts a state-of-the-art 24-hour gym, yoga studio, study space, communal areas, a fully equipped cinema room, and bike storage areas.
An extension to the student village that has formed either side of the River Leen, and lying adjacent to the 'Nottingham Two' accommodation, the building has become a central part of Nottingham's Student Quarter. It rises to 7 storeys high and consists of cluster bedrooms in groups ranging from 5-8 students, plus 85 studios on the top floor level. Living spaces are located on the corners to maximise natural light and provide attractive views.
Architects Maber employed robust materials of mellow appearance and variable colour in this scheme. This enables the different elements of the elevations to create an attractive variety of facades (within a strong framework) that provide visual interest across the building. This particularly helps the appearance of the longer elevations.
The design is based on a series of linked wings that step in blank. It was key that the individual wings had a distinct identity, so Maber selected two contrasting bricks but ones with similar textures and complimentary tones. The Audley Red Mix and Ivanhoe Creams provided cost effective options that were UK source, with the Ivanhoe Cream coming from Leicester, less than 30 miles from the site.
The Audley Red Mix is a nod to the red brick former industrial buildings that are characteristic of the local area and Nottingham in general. The Ivanhoe Cream provides a contemporary contrast and picks up the grey tones of the secondary brick that forms the ground floor plinth and feature top storey to the project. The double soldier courses at floor level are another notable brick feature.
The design also embraces wellbeing. There is a shared, landscaped, linear garden fronting the River Leen. Social spaces all command views of the riverfront. The presence of the river, however, did necessitate careful consideration on a practical level: the flood storage requirements of the area required the formation of embankments to contain overflowing waters. The building therefore improves the flood profile of the site and plays a significant role in protecting 300 surrounding residential properties.
A result of close collaboration with the local council, Deakins Place will support the continued growth of the city's universities, reduce pressure on nearby housing, and play an important role in the area's future as well as making an important contribution to local architecture. It is another impressive addition to the Cassidy Group and Student Roost portfolio.