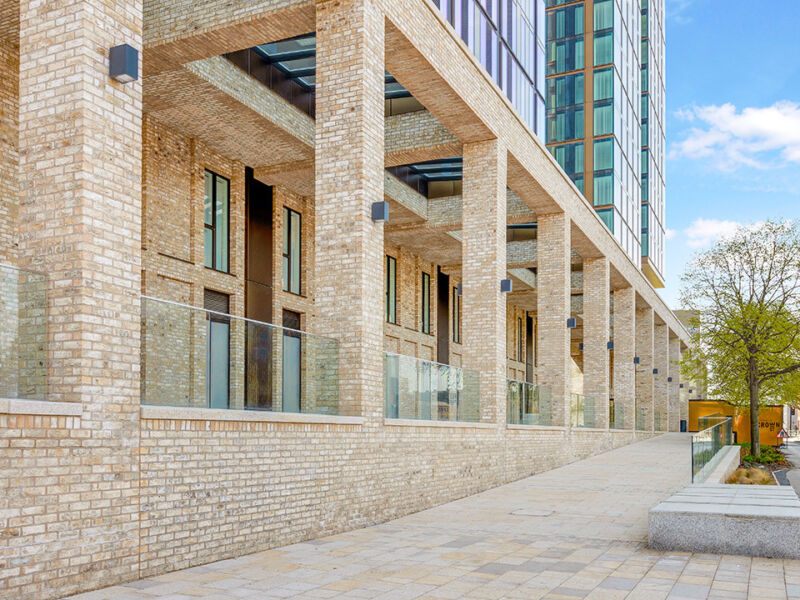 Developer Renaker approached SimpsonHaugh Architects to design the Crown Street development which forms part of Phase 1 of the Great Jackson Street Masterplan, a new neighbourhood located in the South-Western part of Manchester City Centre. 
The brief was to design a luxury residential scheme, comprising of one, two and three bedroom apartments and townhouses for private sale, on the periphery of the Castlefield Conservation Area.
The Castlefield Area has evolved over many years and the elevated railway viaducts, canals and rivers create a multi-level environment. With a mixture of buildings from small scale houses to large warehouses and modern buildings, it homes a variety of building materials, which tend to be urban and industrial in character and this new development should incorporate a mix of uses. The scale, colour, form, massing and materials of any new buildings in this area should relate to and complement the existing high-quality structures, particularly the adjacent building, Grade II listed Bridgewater House. This was a considerable challenge on the Crown Street development, given the scale and massing that would be required to deliver the required quantum of development. 
Key to the success of the development is the design of the two storey brick podium containing townhouses, entrance, amenity spaces and a medical centre. This podium gives the buildings a clear and successful relationship to the parapet of Bridgewater House. Two largely glazed towers, the 21 storey Victoria Residence and the 52 storey Elizabeth Tower sit above the parapet stepping up in scale away from the listed building and, addressing the approach to Manchester City Centre. The brick colonnade addressing Chester Road delivers a sheltered space of a human scale on the approach to the building's main entrance. 
The brick façade features 147,240nr of Wienerberger's Marziale Brick, which gives a classic look enriched by aesthetic variation in colour and texture. The bright buff tones are offset by distressed features, giving the impression of weathered, traditional brick. This creates a very clear material relationship with the facade of Bridgewater House, whilst being contemporary.
There are approximately 562 linear meters of masonry support carrying 350m2 of A1 Fire-Rated Stainless Steel Brick Soffits, accompanied by 324nr Brick Soffit Lintels designed and fabricated by IG Masonry Support and managed and installed by PLF, as well as 245lm of bespoke portland concrete copings. Finally, there's a three-floor carpark with predominately block partitions with approximately 36,100 blocks.
The prefabricated components, manufactured offsite, were delivered complete with brick slips adhesively bonded and mechanically secured to the brick carrier unit. This is so called 'off-siting' at its best showing that clay brick is truly modular anda modern method for constructing great looking buildings. The lightweight system facilitated the reducing in installation time by almost 90% and provided a sustainable solution as a Carbon Neutral Product. The Crown Street development is also located close to the Deansgate tram station and train interchange and bus routes, which is a highly sustainable location contributing to wider sustainability and health objectives and giving people a choice about how they travel.  We believe they'll love looking at this building as they do.