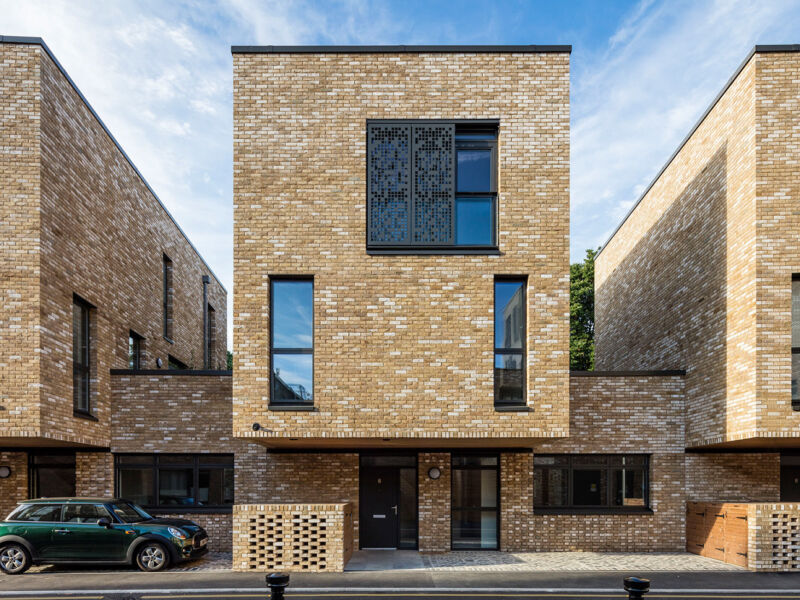 Creek Road, winner of the Architects' Choice Award at the Brick Awards 2018, is a mixed-use residential and commercial development in Greenwich, south London. The project, designed by architect BPTW, responds to the local urban character, reinstating a traditional street frontage and reinforcing Creek Road's importance as a route to the historic centre and World Heritage Site of Maritime Greenwich. The development, for Family Mosaic (now part of Peabody) provides 83 tenure-blind apartments and family homes, together with 1,800 square metres of commercial space.
Yellow and brown multi stock bricks, chosen for durability and local historical resonance, were used throughout, and are offset by the intricate metalwork of key architectural elements. The recessed roofscape facing Creek Road responds to the verticality of architectural elements that characterise Greenwich. Extensive glazing, high above street level and clad in metal, frames panoramic views while allowing the development to suggest a glowing beacon at night. The project incorporates the 'Up the Creek' comedy club, a locally listed former church, that was refurbished with its brickwork restored and original church windows reinstated.
The facades of the commercial units on Creek Road are composed in small sections, with divisions expressed by set-backs in the brickwork. The proportions reflect those of local shops and the details draw on the rich heritage of Greenwich buildings. Retail units also feature large windows, maintaining the same signage height as existing shops. The commercial space is intended for boutique shops and cafes in response to the area's thriving independent retail sector.
The apartments, 23 per cent of which are affordable rent and 52 per cent are shared ownership, form a robust urban frontage towards Creek Road, stepping down to a smaller scale along Bardsley Lane. Running parallel to the main road, this pedestrianised lane is lined by an 'edge' of mews houses. The more informal facade of the apartment block features private balconies, south-facing courtyard gardens and podiums at first-floor level. To enhance integration with the surrounding conservation area an urban rhythm is emphasised by the use of articulated brick across all the facades. The mews terraces are designed with 'slots' between the houses to provide individual expression, and each benefits from generous daylight and a first-floor terrace.
The Architects' Choice award at the Brick Awards 2018 was sponsored by Ibstock Brick