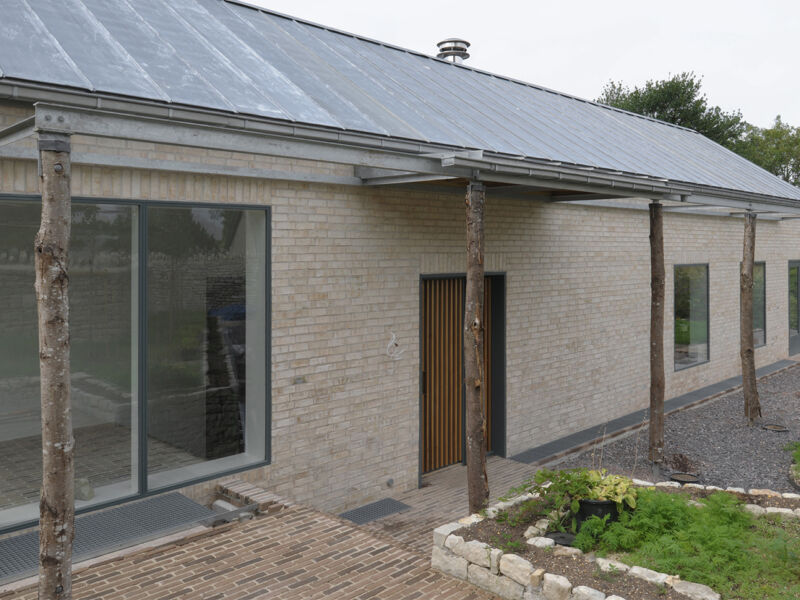 Cranesbill, a new house in the Wiltshire village of Tisbury, replaces a bungalow with a two-storey extension. Architect Jamie Campbell and his client first explored ways to adapt the existing building, but that proved problematic, so they opted for demolition, albeit keeping within the planners requirement that it should be no higher than the neighbouring bungalow. A low, shallow profile, double-pitch roof of grey zinc was therefore conceived on a linear plan, with upper-level rooms occupying the eaves space above a more open ground level, and a side return accommodates the kitchen and utility.
The house is entered from the long east side beneath a canopy supported on a pergola of sweet chestnut-trunk columns. The hall, open to the eaves above, features an elegant staircase and a consistent plane of variegated brick pavors that unify the ground plane. To the right is a large living room and kitchen, with a shallow brick arch, set lengthwise, subtly marking the threshold. From within the living room, it becomes clear that this brick feature extends over a contemporary inglenook fireplace, with a breast and chimney immaculately detailed and built in light brickwork. While the main bedroom is located above the living room, two further bedrooms are placed on the ground floor, with a large studio space above. The whole arrangement offers considerable flexibility both in the way the house can be inhabited now, but also for future adjustments, without any spaces seeming superfluous.
The pale brickwork also wraps the exterior, its colour corresponding to that of the local limestone that has been traditionally used for walls in the area. The brushed flush mortar joints enhance the planar qualities of the walls, avoiding drawing too much attention to the horizontal courses, while also paying an architectural homage to the work of the great twentieth-century Swedish architect Sigurd Lewerentz.
The exterior walls comprise half-brick cladding with a cavity over a SIPS panel construction. The bond is stretcher, with perpends offset by one quarter the length of a stretcher, rather than half, forming a raking stretcher bond. The lintels over the openings are soldier courses. The mortar mix is one part white building sand to two parts white rendering sand, one part natural hydraulic lime (NHL), and 3.5/one quarter part chalk nodules.