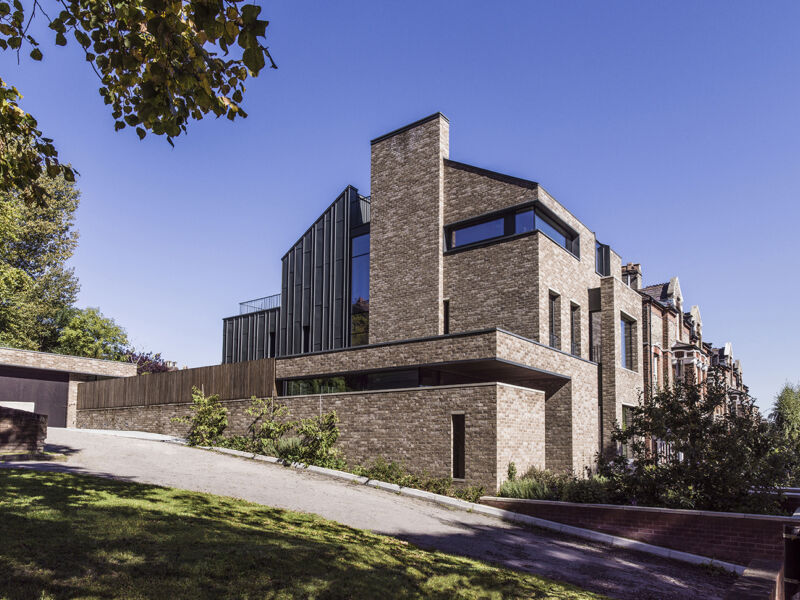 A palette of textured brick and zinc is employed by Zuber Dobson Architects (ZDA) to model the distinctive forms of the Corner House in the Crouch End Conservation Area, north London. The architect sought to design a contemporary dwelling that forms a punctuation point appropriate to the corner condition and responds to the local vernacular. In common with many houses in the vicinity, the neighbouring dwelling comprises London stock brick for the most of its external walls and dark slate tiles for the roof, and to harmonise with this context, ZDA chose granite, stained oak and patinated zinc to complement the textured brick.
Maximising the potential of the site, which sloped steeply downwards from the rear to the front, involved significant earth works, including perimeter concrete piling. A full three-metre ceiling-height basement has been created, while the rear of the site is divided into two levels: a higher terrace on the rear boundary, responding to the existing ground level, and a lower terrace enclosure serving as an extension to the kitchen/dining area. The lower terrace also accommodates two buried attenuation tanks and tree pits for the mature fruit trees, craned onto site. Generous accommodation is provided by the 450-square-metre house, with eight bedrooms, five bathrooms, a sauna/spa, theatre room, gymnasium, home office, study, workshop and double garage. A prominent entrance porch provides a view through to the landscaped garden with its stepped water cascade.
Brick is the dominant material on the street frontage, with zinc providing an accent where brick is omitted. The front bay window, for example, appears as if it has been 'pulled' out of the building, revealing a darker zinc lining. Similarly, the windows and reveals seem to push through the dark zinc lining from inside. Zinc dominates brick at the back of the house, in contrast to its lesser role facing the street.
The tradition of applying roof material to parts of the wall elevation can be found locally within the conservation area. Employing zinc allowed the material palette to be limited, as it was to be used for flashings and trimmings in any case. Interfaces and returns are detailed so they appear seamless, sharp and crisp, giving the appearance of a cohesive, crafted design. The approach to the design of the interiors follows a similar language.
The brick was selected by the client Roger Black, a creative director in the property market, for its texture and variation – which is not unlike a handmade brick – and on the basis that it would work well with the London stocks of the neighbouring houses. Small sample walls were built to test different colour mortar joints before a mid/dark grey was selected. All the opening reveals have a full brick-length return to punctuate the openings and show off the brick. This relatively straightforward detail gives the brick walls, although only a cladding, a significant sense of mass.