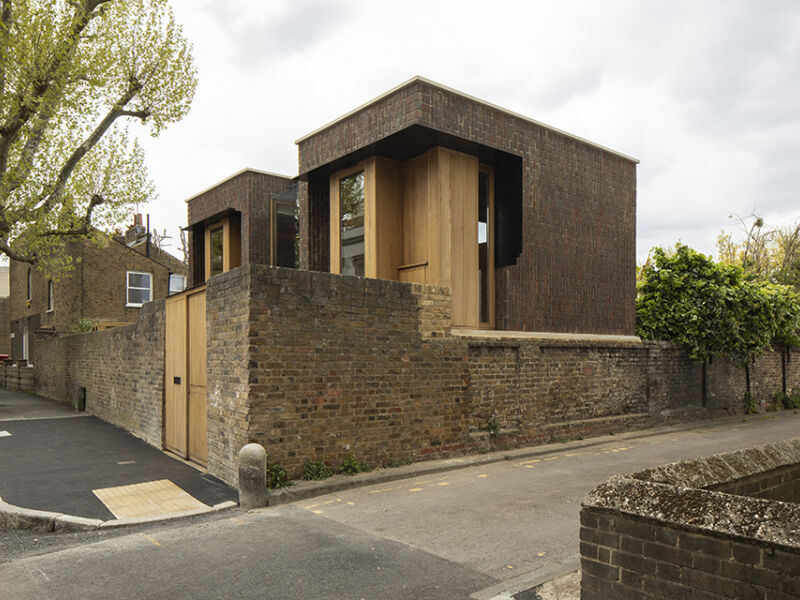 Set astride an existing brick wall and incorporating a range of unusual brick bonds, Southwark Brick House in Bermondsey, south London, is a showcase for this highly versatile building material. Designed and project-managed by Satish Jassal Architects, the new-build, three-bedroom dwelling is partly buried into the site and comprises two wings accessed via a central staircase.
Located on the site of a former car garage, the building line is pulled back from the street edge and the lower portion of the house is hidden behind the historic boundary wall. The side elevation facing an access road sits on top of the wall. Local vernacular elements, such as blank gables, flat edged roofs and vertical timber windows are acknowledged and incorporated into the design.
Red brick made by Ibstock, was chosen for the facade to both complement and contrast the existing yellow London stock brick wall and golden tones of the oak panelled windows. The latter incorporate deep reveals, which provide a sense of solidity and depth. The rough, imperfect texture of the bricks gives the building a worn appearance, making it feel like an established part of the streetscape.
Three different brick bonds are used, each defining a different part of the building. Horizontal running bond signifies the kitchen and dining areas, the stair core utilises stack bond, and the first floor living space employs vertical running bond, which is also expressed internally. 10mm recessed mortar joints are used to create deep shadows and accentuate patination.