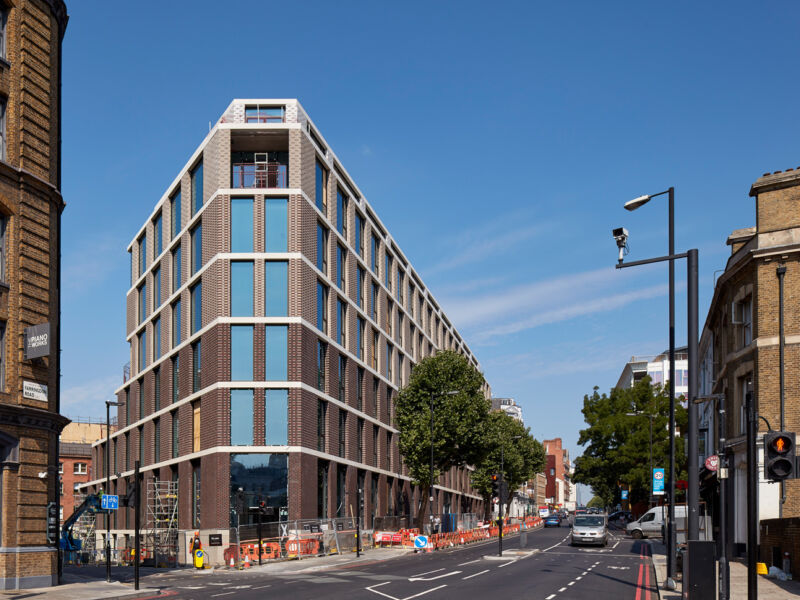 119 Farringdon Road, nearing completion in London's Clerkenwell, is conceived by architect AHMM as a contemporary interpretation of a Victorian warehouse building. The surrounding streets include many fine Victorian warehouses which had historically served trade in Clerkenwell and the railways at Farringdon and King's Cross. The streets to the west maintain the remnants of medieval street patterns, and the valley of the now-culverted River Fleet.
The building is intended to be at once modest and bold. This has been achieved through its nuanced form and careful material considerations. The massing negotiates between the taller, formal and urban context of Farringdon Road, and a more traditionally-domestic scale to the west. This is achieved through a series of terraces, stepping down to the west and responding to the irregular forms of adjacent buildings. The terraces are accessible and planted, providing both colour and an amenity to building users and neighbours alike. At ground level a new area of landscaped public realm is provided.
The key material used is brick, its selection informed by the rich palette of brickwork present in the surrounding area. Five brick types were chosen, ranging from darker, textured to white glazed. Four types of brick bond are used for facades: Flemish bond and English bond, which are informed by the older buildings in the surrounding area; stretcher bond, reflecting the more recent ones; and stacked headers are included as a contemporary addition. The brick types and bonds are combined in a series of regular piers, with gradation from a richer-coloured base to a lighter top.
The brickwork cladding comprises brick-faced precast concrete panels. This technology was developed in collaboration with the main contractor, McLaren, and specialist subcontractor Decomo. It was seen as an effective way to achieve the brick patterns, due to the repetition of the piers coupled with the complexity of the brick bonds.