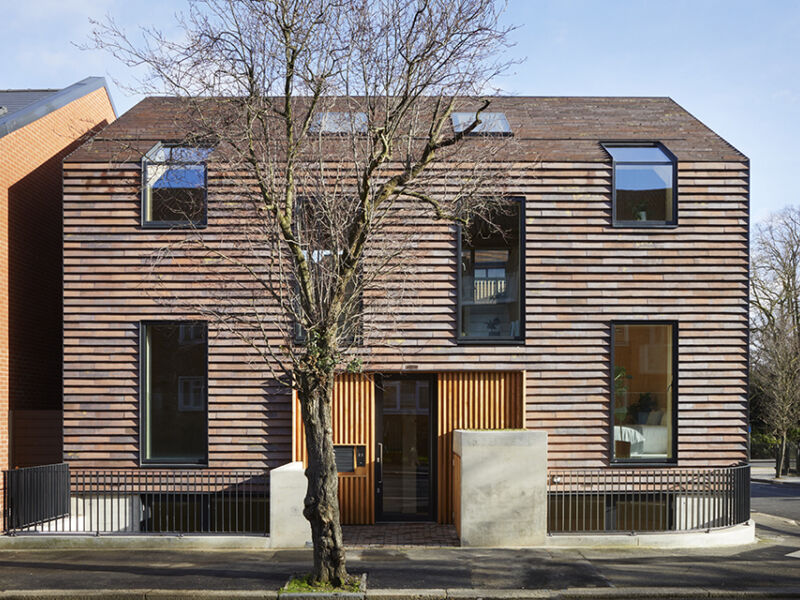 Something completely different by Tikari Works.  We hope this will showcase the 'art' of the building and what a wonderful and adaptable material clay is. This building is encased in clay tiles which are akin to clay brick slips and are just as good looking.
Designed by Tikari Works, The Rye Apartments is a development of ten sustainable apartments located on a prominent corner site opposite London's Peckham Rye Park. A mix of one, two, and three-bedroom units are spread across two buildings that terminate an urban block. "The two tile-clad structures share a sibling relationship with their neighbourhood and with each other, without relying on pastiche or obvious reference", says practice principal Ty Tikari.
A concrete plinth extends the full length of the site, helping to resolve changes in level, providing protection from the busy main road, and enclosing the bicycle and bin storage areas.
Externally the buildings are clad in red masonry shingles, whose materiality is intended to complement the surrounding red/brown brick context. "The sculptural forms of the blocks in combination with the shingle cladding produces an urban composition that is simultaneously familiar and new", says Tikari. "This productive tension is further enhanced through the play of fenestration across the facade, as window openings cut through building lines and bend across eaves levels to give the project its identity and bring daylight deep into the plan."
Sustainability is central to the project with both active and passive technologies employed. These include a CLT frame construction, photovoltaic panels, whole-house heat recovery ventilation, high-performance solar control glazing, and an extremely air-tight envelope.
Conceived as a ventilated rainscreen, the facade build-up (from inside to out) comprises a CLT frame, vapour control layer, insulated timber subframe, sheathing board, breather membrane, and vertical and horizontal timber battens supporting C-shaped, mechanically-fixed clay tiles. Polyester powder-coated aluminium trims line the door and window openings forming a crisp edge where they meet the tile cladding. Y-shaped PPC trims neatly resolve corner conditions where tiles of two different facades meet.
Dry construction techniques are deployed throughout the project, allowing for ease of recycling or reuse of material at the end of the building's life.