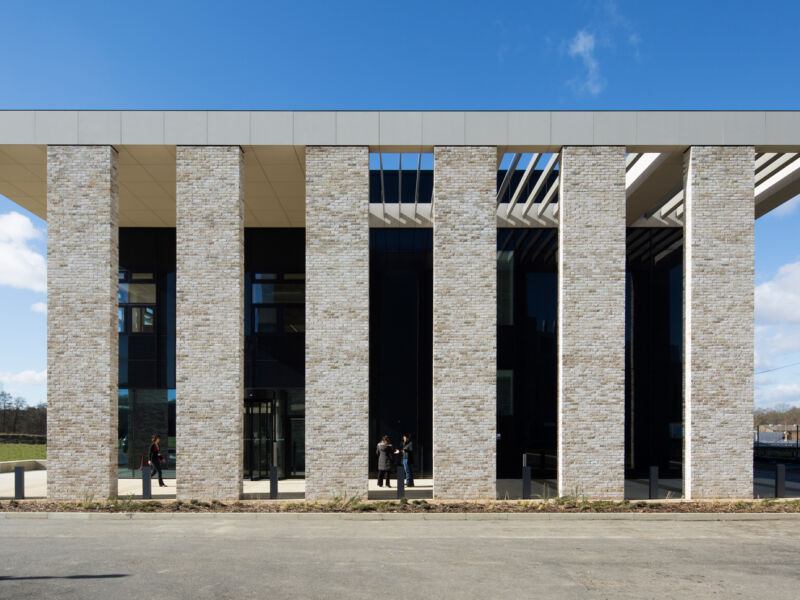 The National Vaccinology Centre: The Jenner Building is a high-tech laboratory for 100 scientists at The Pirbright Institute in Surrey. The new national facility, designed by NBBJ, enhances the UK's capability to control, contain and eliminate viral diseases of animals through innovative fundamental and applied bioscience. A key part of the Institute's ambitious masterplan, the building has been funded by £350m of capital investment from the Biotechnology & Biological Sciences Research Council. Research in The Jenner Building will focus on poultry diseases and the development of new vaccines, supporting the Institute's work to help eliminate viral diseases both after they have entered the UK and before.
NBBJ was appointed in 2012 with a brief to design for adaptability in the context of an evolving campus and changing research programmes. The building was to be sympathetic to the rural campus while setting new standards for sustainability and quality of experience for occupants – attracting and retaining staff is a key aspect.
The accommodation includes generic and specialist laboratories designed to biosecurity protocols, collaborative offices, meeting and social areas. Dr Michael Johnson, Director of Capability at The Pirbright Institute says: "The design team understood that they weren't just delivering a building – they were delivering science. Science is dynamic, so the building had to be dynamic and flexible, but operate with simple efficiency. The team whole-heartedly bought into the Institute's brief and worked diligently to ensure the user's requirements were fulfilled both effectively and elegantly." 
A distinctive brick colonnade frames the picturesque heathland views and draws visitors from around the campus. This colonnade concept, resulting from consideration of location, orientation and access, meant that the building entrance, offices and collaborative hubs could be situated away from the main approach and take advantage of the scenic views and natural ventilation. The laboratories could thus be arranged along the north-facing campus side, were they would benefit from daylight but avoid direct solar gain, a critical aspect given the need to maintain strict temperature controls.
Rustic pale brick piers with lime mortar alternate with tall windows along the north elevation, forming the backdrop to the future quadrangle, while the southern side features extensive glazing shaded by bronze anodised louvres. The palette of the external fabric was considered to allow for flexibility in future planning of the overall campus and addresses the surrounding landscape through its modern application of contextual materials.
The Jenner Building was awarded a BREEAM Excellent certificate and employs a passive design approach. The design focuses on occupant wellbeing and using appropriate renewable technologies such as automated vents in the facade for night-time cooling, rainwater harvesting and a large-scale photovoltaic array on the roof.