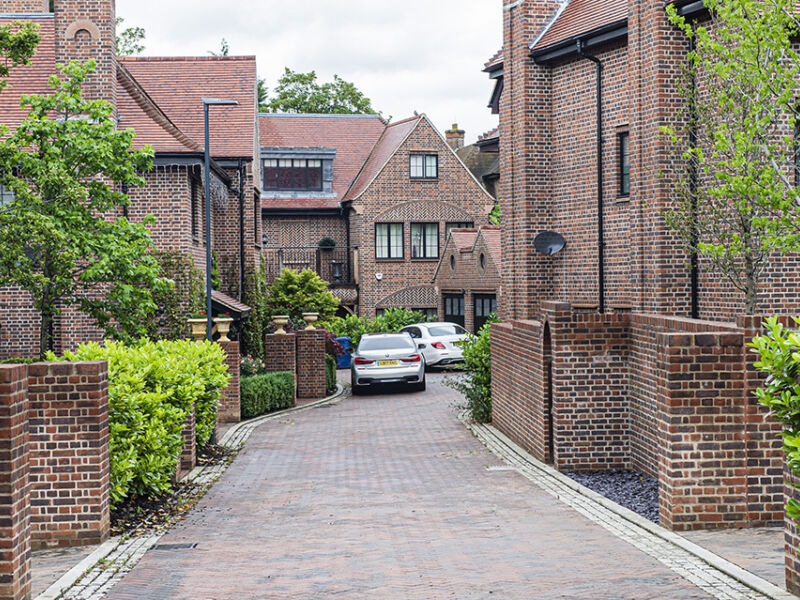 This development faithfully imitated the locality's Arts and Crafts architecture through careful brick selection and wonderful detailing. Despite being located in North London, the buildings successfully recreated a peaceful village atmosphere.
A flagship residential project in London's Hampstead Garden suburb, this beautiful small development is located in a secluded cul-de-sac near Hampstead Heath. The local area has a rich heritage, and this collection of 6 unique houses and 39 apartments very much reflects this.
The architecture draws heavily on the nineteenth century Arts and Crafts style of neighbouring properties and pays homage to a movement that cherished individuality and traditional building techniques. Even the placement of the individual houses, although meticulously planned, gives an impression of arbitrariness to emulate the organic growth of historic English villages.
Although the broader area of Hampstead and Golders Green contains eclectic architecture, this particular pocket of London is very individual.
Clague Architects and Barratt London therefore dutifully ensured that the development blended immaculately with its immediate surroundings. The primary way they achieved this was via attractive brickwork made by Ibstock, showing an acute appreciation of the Arts & Crafts Style.
Because there was little, if any, variation in the style and colour of bricks in the bordering streets, finding a brick that matched Hampstead Garden's particular character was key.