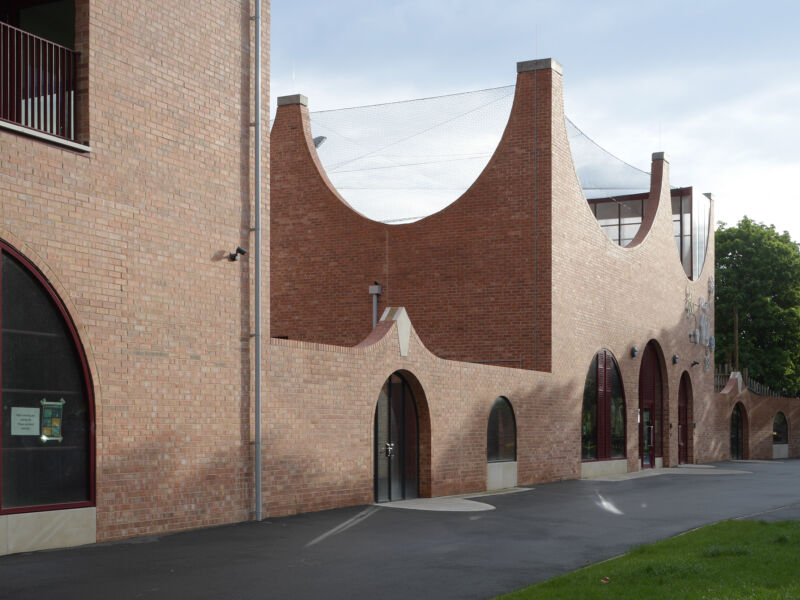 This project is part of a wider £85 million regeneration of Central Somers Town by Camden Council. The Community Facilities are the key part of the overall regeneration project and build on a strong sense of the neighbourhood's identity and character. The play club and nursery are laid out along a public park as an enfilade of courts and rooms, held together by a unifying celebratory façade. A strong hierarchy of openings, glimpses into courtyards and deep window reveals quietly satisfy the many and stringent safeguarding and privacy demands, whilst projecting welcome and vitality.
Swooping inverted arches enclose a rooftop sports pitch. The motif is familiar from London garden walls but amplified to give a larger scale of representation across the park. They subsume the sports elements into an overall singular façade and achieve a distortion of scale - a grandeur at odds with real size like a child's model of a palace. The small tower of housing affirms the scale of the street whilst maintaining this delicate quality. Above the nursery on Chalton Street sit the 10 social housing flats.
A modern, frost-resistant take on the traditional fletton brick the Somers Blend brick is a familiar brick on the streets of London, but here applied in a less ordinary manner. Draped across the abstracted arch forms, the dappled texture of the brick with frequent strap marks and gentle variations in tone is seen as a fabric with delicately hemmed edges.