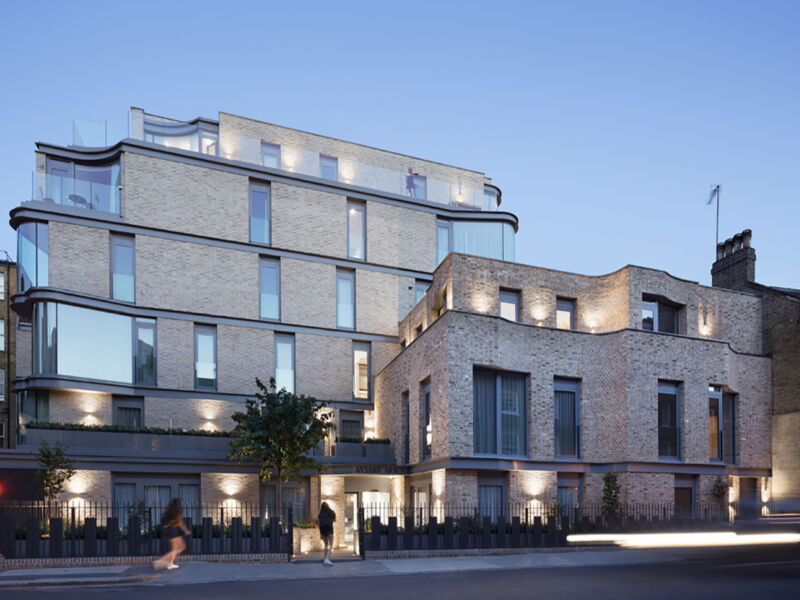 Layered planes of brickwork facades are offset by curvaceous full-height windows in the Castle Lane residential development in central London, designed by Droo Projects with Name Architecture. Comprising 28 apartments and three townhouses, the project is set in a narrow street within the historic Birdcage Walk Conservation Area in Westminster, near to Buckingham Palace, the Royal Parks and Westminster Cathedral.
The project represents a radical departure within this very traditional part of London's urban fabric, introducing a typological form that both respects and challenges the historical setting. Castle Lane revisits a recurring theme in English architecture with a contemporary interpretation of the classic bow window, using curved glass to extend out from the building while enlarging the living spaces, giving the feeling of being out in the street. The building's fabric is likewise conceived, using brickwork in a contemporary manner to clearly differentiate between the historical fabric and the contemporary iteration.
The site is set between two distinct London forms – to the west rows of typical townhouses in buff brick terraces, and to the east red brick Edwardian mansion blocks. The development's flats and townhouses are arranged in two volumes – a taller block on Castle Lane and a low-rise building parallel to Wilfred Street. Having studied local precedents of bay and bow windows, the architects collaborated with facade consultants at Arup to develop a design for the asymmetric bow windows, with planar faces and tightly curved ends that ripple like waves across the faces of the building.
The projecting windows are framed in steel, which also forms string courses in the brickwork, lending additional texture to the elevations. The protruding window forms are subtly echoed by concave curves in the brickwork of the low-rise block, making a visual connection between the two parts of the scheme.
The bricks were specified in yellow tones of London stock, with hints of colour variation in the grey browns to allow the walls to be recessive in relation to the windows. The bricks were intended to respect the surrounding context and yet differentiate the building sufficiently, so the architects opted for a more grey contemporary tone. A structural steel framework supports the brick facade skin. In order to negotiate the different glazing details at the junctions with the floor plates of the facade, a steel edge beam datum was used in a parallel flange channel to create a shadow gap between the floor plates and floor-to-floor facades. The brickwork facade then sits on this plate, using lintels. In parts of the project, such as in the townhouses, the brickwork also gently curves to form concave surfaces, which proved more challenging to detail. The subtle, ordered manner of the brickwork also helps to balance the visual dynamism of the facades.