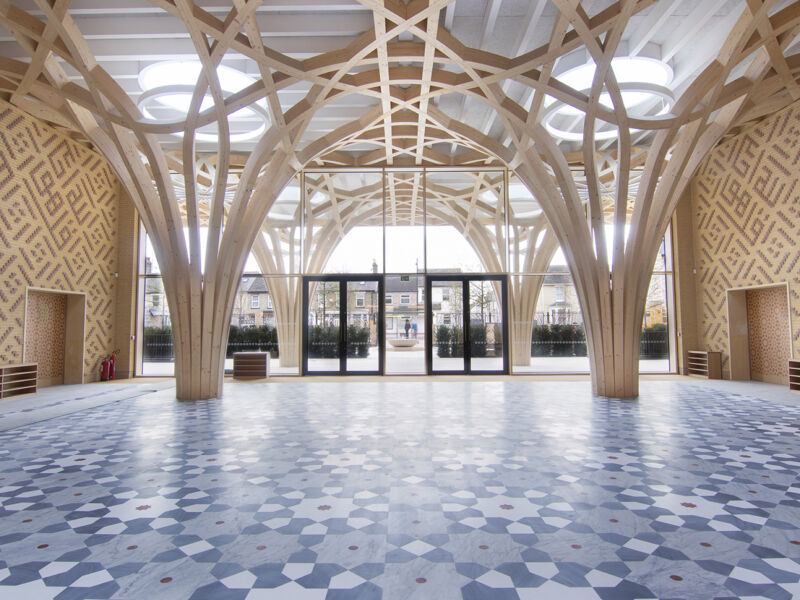 Designed by Marks Barfield Architects, Cambridge Central Mosque is intended to announce Islam's presence in Cambridge as a spiritual and cultural centre, not only for Muslims but also the wider community and, to be integrated into and respectful of its neighbourhood.
For centuries and throughout the world, mosques have adapted to their local conditions – cultural, climatic and constructional - using local building materials and the local vernacular. So, the project sought to identify the way in which a British mosque should be designed in the 21st century.
The idea emerged of a calm oasis within a grove of trees, inspired by an image of the garden of paradise. Also, a source of inspiration were elements from both Islamic and English religious architectural traditions, in particular English fan vaulting as seen in Kings college chapel and, sacred Islamic geometry. The underlying geometry of the entire building is the 'breath of the compassionate' pattern which is based on octagons and symbolises the rhythm of life.
One of the defining features of Cambridge Mosque is its timber structure. The timber columns, or 'trees', reach up to support the roof using an interlaced octagonal lattice vault structure. The timber is sustainably sourced spruce which is curved and laminated. Rooflights above the trees create a prayer hall bathed in natural light.
The external walls are made of cross laminated timber, clad in a Corium brick system. The cladding reflects both local vernacular materials and, Islamic sacred traditions. The tiles have been chosen to reflect the light buff colour 'Gault' Cambridgeshire brick with an accent red tile. Taking inspiration from masonry Islamic architecture across the Middle East, Soraya Syed of Art of the Pen, designed the arrangement of brick tiles to form Square Kufic calligraphy writing.
Square Kufic is a form of Arabic calligraphy based on a grid, where positive and negative space must be balanced. This lends itself to modular construction such as brickwork and tiles, and there are examples of Mosques and Mausoleums using this technique in Afganistan, Azerbajan, China, Iran, Turkey, and Uzbekistan. Where Square Kufic is used to create geometric brickwork patterns in relief, this is referred to as 'hazarbaf', Persian for 'thousand weavings'. At Cambridge Central Mosque, the brick tiles form a pattern of Kufic calligraphy, incorporating specially formed bespoke protruding headers, which reads 'say he is God (the) one'.
The mosque also incorporates many sustainable features. There are zero on-site carbon emissions, and all public areas have been carefully designed to be naturally lit and ventilated during daylight hours.
The Mosque project has already created a stir within Cambridge's Muslim and non-Muslim communities as well as in the wider Muslim community in the UK and beyond. It is intended to be nondenominational, inclusive, open and welcoming to the wider community. A meeting place and a cultural bridge where modernity and innovation meet timeless sacred principles. It hopes to be one of the UK's leading women-friendly mosques. A mosque that somehow fits in and stands out at the same time.