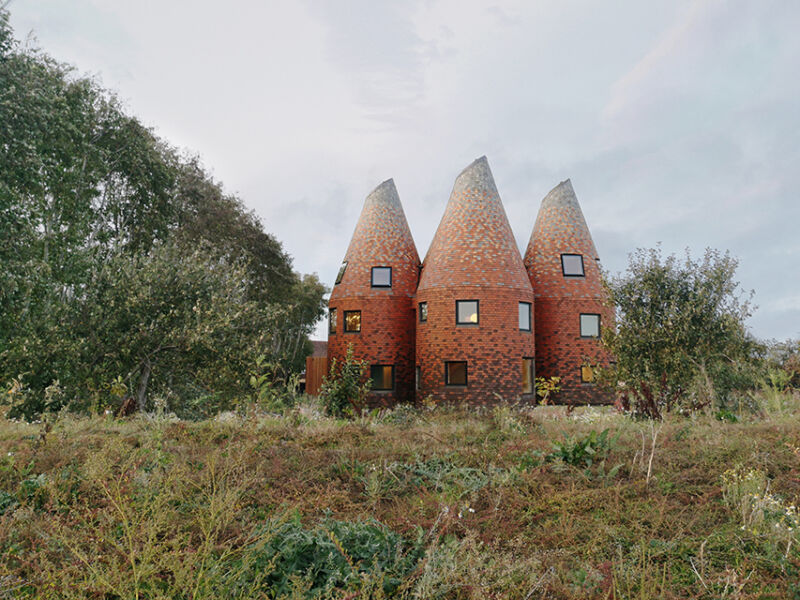 A slight change from our normal fare in that this week's Bulletin features clay tiles, worthy of mention, given the building's architectural merit. Bumpers Oast is a 21st century house closely based on the local vernacular in Kent, that of a traditional Oast House used in former times, to dry Hops used for making beer.  
Five shingle-clad towers rise a former apple orchard, creating an extremely low-energy contemporary home. Kent-style Wienerberger tiles in eight shades were used to create the exterior skin, slowly fading from dark red at the base to orange in the centre and blue towards the sky.
The aim of the careful use of colours in the project was to be harmonious with the environment and to be intrinsically related to the material, rather than applied. Instead of using a glazed finish, ACME used a mix of tiles that are treated with an engobe finish- a type of clay slip. The blue-grey tiles at the peak of the cone are the only ones with a semi-gloss effect. This gives a slight sheen, which absorbs and reflects the light differently between the variations in colours. Kent is known for its peg-tile, a plain type with a third central peg, which allows the cladding of the otherwise complex geometry of the cone shape. Laying the tiles relied heavily on traditional local craft skills to create smooth transitions from rectangular tiles for the cylinders, to increasingly tapering shapes for the cones and to work with a flat tile rather than the more traditional slightly curved Kent tile. We collaborated closely with the roofers, who were comfortable working from our coordinated pattern drawings, as it is common practice in this region to create geometric grids or monograms into tiled roofs.