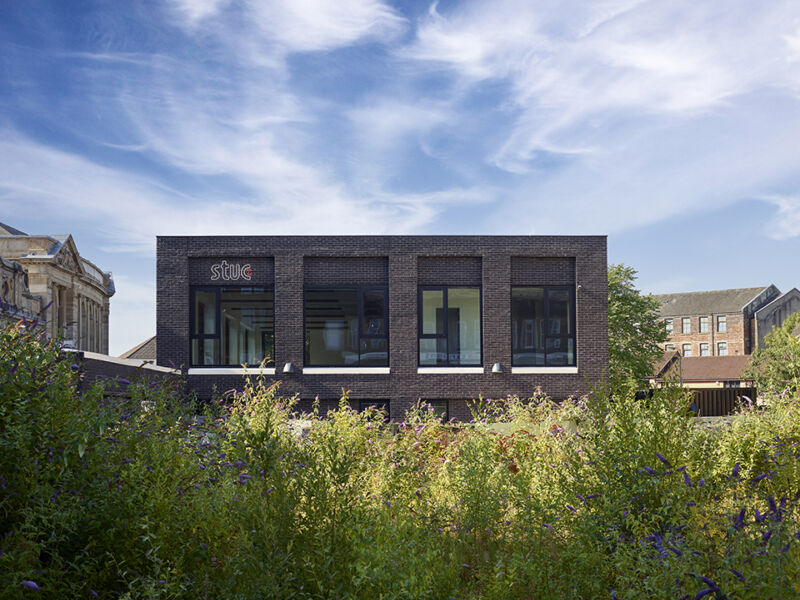 Bridgeton Civic Hub, Landressy Street is a new build office pavilion located on a vacant plot in Bridgeton, Glasgow. The site is situated within Bridgeton's Conservation Area opposite the renowned Glasgow Women's Library and will become the new headquarters for the Scottish Trades Union Congress (STUC).
The aim was to achieve a distinctive, architecturally stimulating and innovative design solution. The key requirements were to provide open plan office space for circa 40 employees with supporting administration facilities, kitchen and breakout zones, flexible conference space, a small research library, and a potential sub-tenant space. With the block as existing being almost completely vacant, the site provided the opportunity to re-establish a strong street presence and positively contribute to Landressy Street's variety.
This relatively small insertion into the existing historical fabric of Bridgeton is, like many inner-city challenges, one of great opportunity yet full of complex and sometimes contradictory considerations. There is a rich historical tradition and community-focused heritage to understand and acknowledge. Despite its place in the wider Bridgeton Conservation area, there has been inevitable fragmentation and erosion of the original Landressy Street edge patterns over a long period of time and new functions must face the conundrum of whether to reinstate or reinterpret these.
The final architectural response was one predicated on how the building may address and positively contribute to Landressy Street's variety. It does this through a simplicity, a proportionate rhythm and materiality that is entirely in-keeping with our understanding of the contextual considerations. The dark stock brick and dark PPC frames to the façade are similar tones to the Women's Library Extension, creating a new narrative along Landressy Street. The light precast cills and cope contrast with the dark stock brick and create a strong horizontal emphasis while also having a relationship to the Women's Library primary blonde sandstone facade. The extended brick wall then continues past the end of the building to denote the street edge and creates a more private, defensible space behind for the parking and back of house spaces. While exploring the material palette for the proposal we considered both the contextual response as well as from a durability viewpoint. With Wienerberger brick and precast concrete as the primary materials it created a robust and durable façade intended to last the lifetime of the building.
This project has responded to the needs expressed by both the community in general, who want to see jobs and training opportunities delivered, and also for many existing and start up business in the area. The development removes blight, delivers opportunities and promotes the reputation of the area as one which is not only open for business but attractive and viable as a new location to grow an existing business or relocate to.