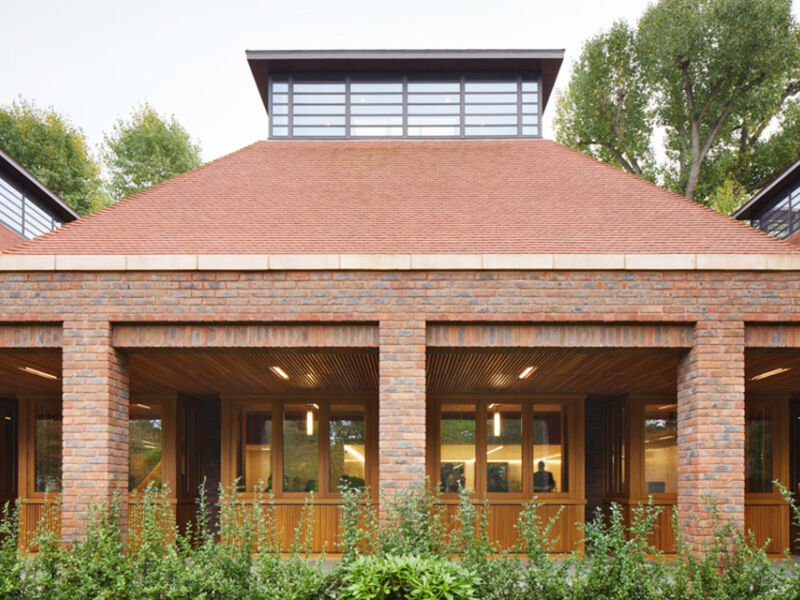 This significant new building has been carefully crafted to embrace and enhance its beautiful landscaped setting. A brick cloister offers a calm, collegiate quality to the building's approach. Inside, an intricate lattice timber structure rises to three glazed lanterns lending a befitting grandeur to the refectory – the communal heart of the school.
The competition-winning refectory design by architects, Maccreanor Lavington, was founded on a fastidious attention to the interior spaces. We recognised the importance of lunchtimes in supporting the emotional and social development of pupils and wanted to create a building that was uplifting and celebratory. The architect was committed to creating a calm, quiet and – critically – enjoyable space; allowing hundreds of pupils to dine simultaneously whilst being able to have a conversation with those immediately next to them.
The building makes abundant use of timber and brick, made by Michelmersh. The striking glue-laminated lattice structure of the vaulted ceilings frame inset panels of oak, designed to incorporate acoustic absorption to soften the background clatter of dining. The restrained palette of timber is accented by flourishes of bronze – handrails, door handles and light fittings – which lend a permanence and tactile richness to the building.
The form of the building is designed to moderate the internal environment of the halls without air conditioning. The cloister to the west elevation acts as a practical rain cover for pupils queuing for lunch and additionally shades the interiors from afternoon sun, preventing summertime overheating. The roof lanterns form a chimney to draw hot, stale air out of the building through high level louvre windows and allow natural light to flood the spaces below.
RIBA said: "it is a magnificent cathedral-like refectory delivered in a very precise and undistracted way".
The refectory houses a necessarily significant volume of space for the functions it serves, but we were keen that it did not unduly impose on the adjacent Edwardian manor house from which the school was formed. The rise and fall of the roof and the steep pitch contribute to a building which despite lofty 12m high interiors, feels low, intimate, and respectful of its setting at the ground. Foundations were developed to retain a backdrop of mature London Plane trees, which complete the composition.