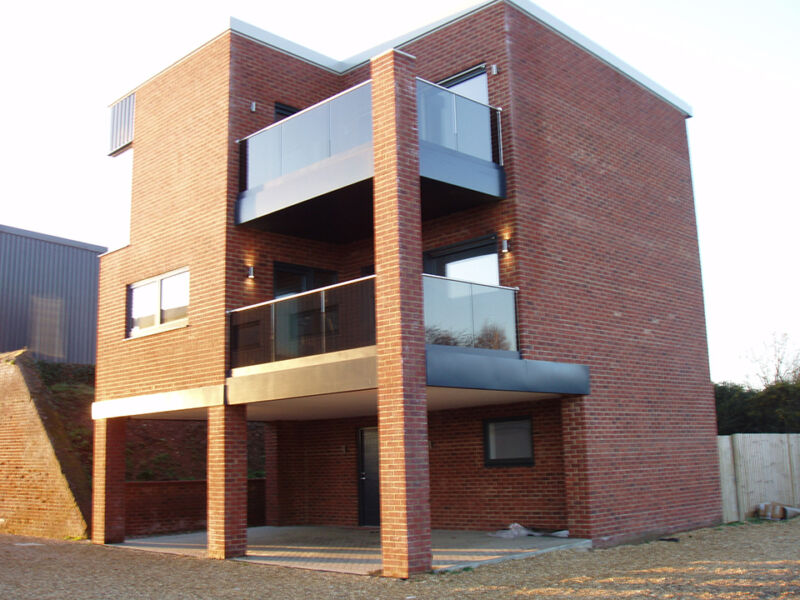 Formerly part of the Priddy's Hard, Ministry of Defence Ordnance Deport, which served the Royal Navy throughout the centuries, the Ordnance Yard is a development of nine homes set within Napoleonic and Victorian built heavily structured traverses - large structures that were once blast walls to sheds where in former times, shells were filled with explosives.
In 2009 the 23-acre Priddy's Hard site was acquired by the Portsmouth Naval Base Property Trust. As well as The Ordnance Yard, the site is also home to 26 other, mostly brick built, listed buildings,
The new homes, overlooking the waterfront and south facing are built in a contemporary style, inside and out. Six of the units are set within the bays of the traverses while a further three have been constructed on the site of former sheds. The accommodation is raised up on columns, giving the impression that the houses are floating above the traverse floor and jut out towards the lake. The living area, naturally, is on the first floor and includes a terrace facing the lake opposite. Bedrooms are on the second floor.
Most of the houses are clad in dark grey profiled metal cladding, providing a nod to the former sheds and naval architecture which was present, prior to re-development as they nestle within the existing Napoleonic brickwork. The so-called 'Gatehouse' is built in a red brick made by Forterra, which was also the same brick used for refurbishment of the Victorian traverses themselves.
The brick colour and texture were chosen for its close likeness to the existing brickwork on the site. The bricks are manufactured using environmentally friendly methods, an important consideration for any build, which also incorporated energy-efficient air source heat pumps, an on-site drainage and sewage system that converts wastewater into potable drinking water, and which exceeded building regulation levels for energy performance throughout.
For those of you who know the Gosport area in Hampshire, the town is surrounded by water, mostly taken up by military and/or industrial service facilities, much of which remains active as we see a renaissance in Royal Navy activity. So to find a patch of former industrial land that can be converted to lakeside homes, is a very rare treat indeed.