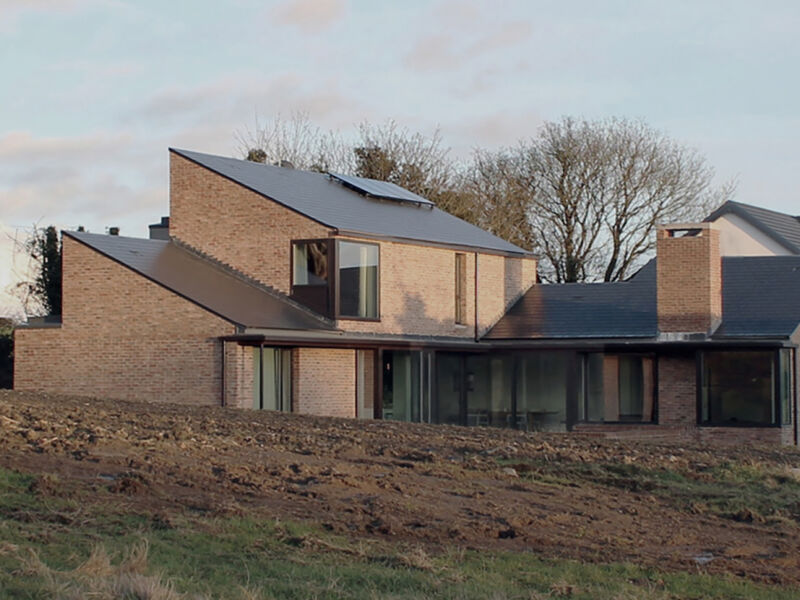 Blackrock House is located near the predominantly red-brick town of Dundalk, County Louth, on Ireland's east coast. The client, a retired couple, wanted a modestly sized, low-energy, warm and welcoming home that took maximum advantage of sunlight. The site, on former agricultural land, is the last in a row of plots that have been sold-off in a piecemeal fashion. It slopes down to the south, and overlooks a meadow to the west, and will have adjoining neighbours to the east. "At the time of design, there was no immediate built context, only the surrounding meadow, zoned to remain undeveloped, and an incomplete access road", explains Declan Scullion.
The new 200-square-metre brick house faces south-west towards the meadow, with L-shaped living spaces that are arranged around a low-walled brick patio. The more public face of the dwelling takes on a greater scale to the east, where it will adjoin the developing community of individual houses. Clerestorey windows allow morning sunlight to wash the sloping white plaster ceiling from the more private east-facing elevation. The master bedroom features a walled courtyard that captures the sun from early morning to late afternoon. Discretely positioned windows on the east elevation allow the occupants to see arriving visitors.
The house appears low in profile from the west, as if emerging from the ground, and earth tones and natural materials are employed to help root the structure in the landscape. Strong geometric forms, emphasised by flush-struck brick mortar joints, stained cedar soffits and flush panes of glass, reinforce its materiality and man-made presence. Full-height windows to the south and east are sheltered by a timber canopy that extends inside and outside, its structure echoed by the placement of cedar battens that lend rhythm and intimacy to the patio perimeter.
Brick features extensively as a finished surface in the main interior spaces. Each room incorporates generous views and individual lighting conditions. Utilitarian areas are located to the north, where the limited openings minimise thermal loss. The exception is a glazed door at the end of the main corridor, which reveals the excavated hillside. Triple-glazed windows, renewable energy sources and a highly insulated fabric ensure low-energy consumption all year-round.
"The lack of middle ground in the view from the inside engenders the viewer an immediate relationship with the meadow to the west", says the architect. Variously scaled spaces, including a brick bench reading niche adjacent to the fireplace and a large window seat by the kitchen, help to imbue the house with a sense of comfort and conviviality.