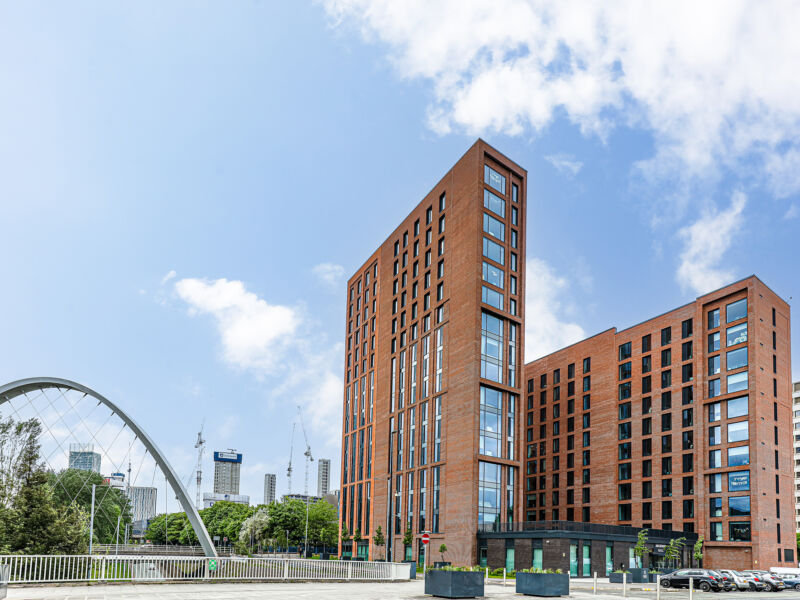 This impressive accommodation forms part of a major new campus at Manchester Metropolitan University. It is the second phase of the Birley Fields redevelopment and, boasting 16 storeys, has become the tallest building in the vicinity. Indeed, the tower is a visually prominent presence that creates a focal point or 'gateway' that leads to the main teaching campus.
The redevelopment of what was a redundant site also plays an important role in resolving the urban grain along Stretford Road. The project also re-establishes the road frontages to Old Birley Street and knits together the new site with the surrounding vernacular, which mainly consists of residential mixed tenure and housing types with facing brickwork.
The fabric of the new tower continues this historic use of brick, responds to the residential context, and creates an aesthetically cohesive urban layout. Considered brickwork detailing, framing and oversized window apertures create visual interest to the facades without overcomplicating the simplicity of the overall design.
The specific bricks selected for the task were Leicester Orange Stock (a high quality thrown soft mud brick that provides a light, textured façade) and Weston Red Multis (which are made with naturally occurring materials and therefore provide some variation in terms of colour and texture). Himley Ebony Black bricks were also used to provide a grey, textured contrast.
This exceptional building was also built with sustainability in mind. The tower has a zero car policy due to its proximity to the campus. It also provides excellent cycle storage facilities. The tower consumes reduced levels of energy and water too; therefore running costs are lower. This emphasis on sustainable solutions is central to architects GWP's approach.
Overall, the accommodation is arranged in cluster groups of eight, with shared cooking/dining facilities. Social and recreational facilities are located on the ground floor. Large format windows to communal spaces also provide spectacular views across the city.
The result is highly sustainable and attractive building that provides an ideal place to live, study and relax. It enhances the student experience and supports their academic and social development.