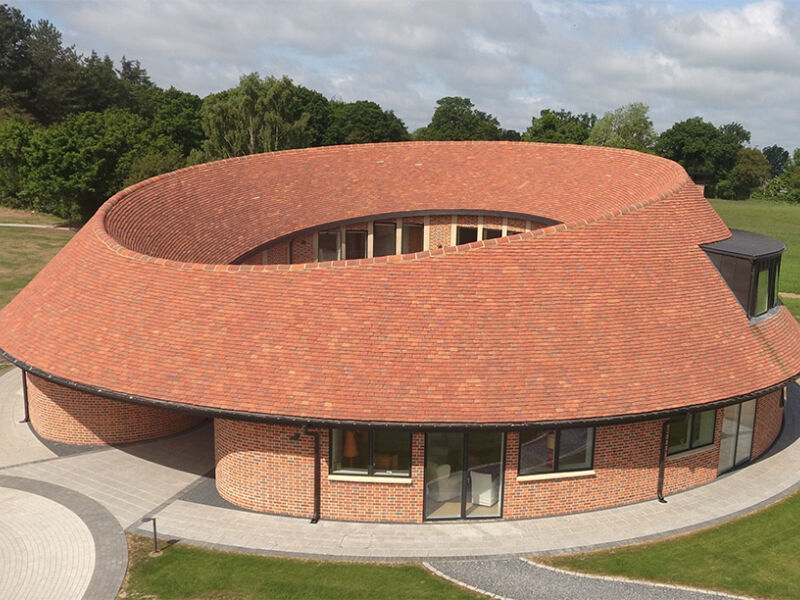 The owner of Ten Oaks Farm has a background in construction and industrial scale renewable energy.  The vision here was to construct a traditional country house, with exceptional architecture, whilst making the build and use of the house as carbon neutral as was possible.
The shape of the building enables solar gain throughout the day. Even rooms with a North facing exterior admit sunlight through the South facing interior wall which surrounds the courtyard. This significantly reduces energy requirement and the courtyard design also creates a very attractive private outdoor space.
The building is faced and constructed from natural low-embodied energy materials that weather well and require little maintenance. The main materials employed on all the facades are brick and lime mortar, with handmade, woodfired clay roof tiles on the main house made by HG Matthews and as a unique bespoke new build, coincidentally features as the cover picture on the Brick Development Association's new Guide to Successful Brickwork.
Forming the brick by hand produces a sand crease on the surface of the bricks and it is this texture that provides the unique character. The drying of these bricks using biomass boilers, and the firing of the bricks using wood, has negated the use of about 360,000 litres of diesel needed per year to keep the kilns hot, which represents a significant carbon saving while also boosting the local wood fuel economy.
Alongside its eco-credentials, each brick of this house has been moulded and shaped by the hands of skilled craftspeople, lending a warmth and character to the modern design. It is truly in and of the Chilterns.
A truly pioneering project which aligns with environmental concerns and which will it is hoped will become completely carbon neutral over time.
Ten Oaks demonstrates unequivocally that buildings can be constructed using traditional materials and skills which complement the landscape, whilst still be ground-breaking and innovative in both its function and design.