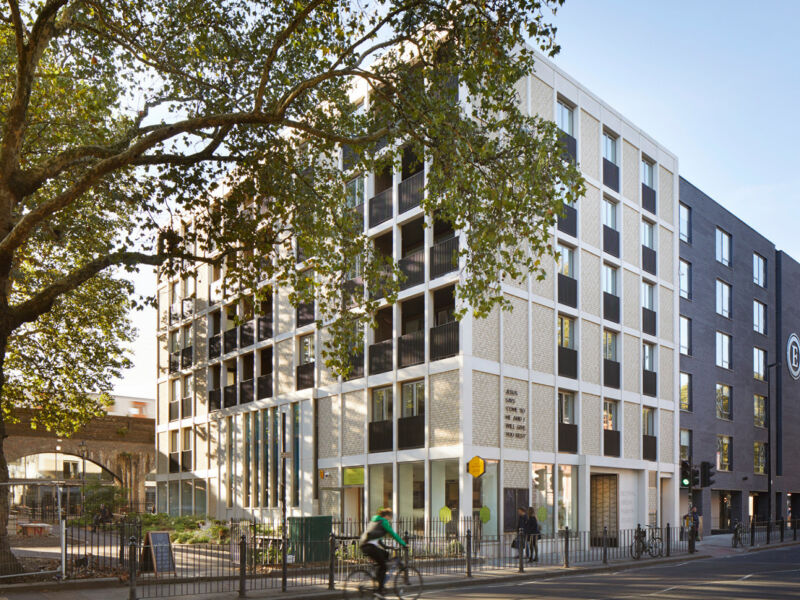 Designed by Gatti Routh Rhodes, Bethnal Green Mission Church in London's East End represents a groundbreaking model for contemporary places of worship in dense urban environments. Replacing a former 1950's building, the six-storey, mixed-use development is located in the centre of the Bethnal Green Gardens Conservation Area, and includes 14 apartments, co-working facilities for charities, a community hall and kitchen, bookshop, cafe, foodbank store, church and vicarage.
Many of the apartments on the upper floors are dual aspect, with inset balconies framing views out over the historic local parks to the City beyond. Each apartment employs high acoustic and thermal properties to shield occupants from the noise of the streets below and the overground trains that run parallel to the site. The cafe, which is located on the corner of the building adjacent to Cambridge Heath Road, provides a welcoming entrance for the scheme and encourages people to journey inside or enjoy the public gardens.
The facade comprises a regular concrete grid with brick infill panels. Brick was chosen to complement the local context, which contains a number of high-quality masonry buildings, including the V&A Museum of Childhood and St John at Bethnal Green church, explains the architect. It also makes the scheme feel grounded and part of the city, in keeping with its community programme. The pale-toned brick is conceived as a contemporary interpretation of London stock brick, with the proportions of the masonry panels evoking the adjacent Georgian terrace.
The bricks are laid in a raking monk bond, which produces a subtle woven aesthetic. The pattern is inspired by a series of bold diagonal ribs that form the ceiling of the double-height church space, which are themselves references to the cross vaulting in traditional churches; reinterpreted to form a contemporary aesthetic. These beams penetrate the office spaces above, forming gaps to bring more natural light in, while also reinforcing visual connections between the different functions of the development.
Full-scale mock-up panels were made by the bricklayer prior to construction as a quality benchmark. A number of different mortar colours were tested on smaller-scale samples to ensure that the woven brick aesthetic would not visually over-power the facade.