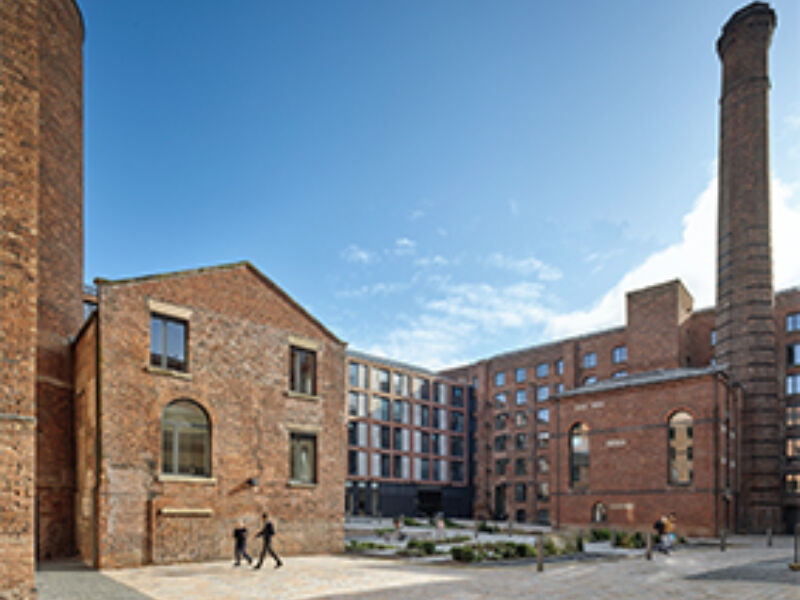 From pioneering mill complex to forgotten industrial building and now to contemporary dwellings for post-industrialites, the history of modern Manchester can be seen in the bricks and mortar that form Murrays' Mills. This residential project by FCB Studios forms part of the regeneration of Manchester's Ancoats Conservation Area, and comprises a mix of one, two, three and four-bedroom apartments.
Conceived by brothers Adam and George Murray in the 1790s, Old Mill was constructed from 400,000 handmade bricks, made from clay thought to be excavated from site, explains Simon Branson, partner at FCB Studios. This mill, which was opened in 1798 and is now the oldest surviving steam-powered cotton mill in the world, is a simple building that reflected the austere functional approach of the brothers. Over subsequent years the Murrays completed the complex in a similar manner around a central courtyard and canal basin.
The next 100 years saw notable developments and mechanisation in spinning technology. The buildings were therefore adapted, strengthened and changed to suit the evolving industry. This patina of adaption can still be seen in the walls of the buildings. Indeed, the evolution of brickwork from a local handmade craft to an industrialised product can be traced through all the buildings.
The twentieth century was not as kind to Murrays' Mills. The decline in the cotton industry combined with a series of fires led to the complex becoming abandoned. To secure a future for the buildings, FCB Studios was commissioned by Manchester Life, to transform the buildings into housing. In collaboration with structural engineer Arup, the architects analysed the existing buildings and proposed a series of bespoke adaptations and alterations to suit the new use. These adaptions were carried out in a manner sympathetic to the existing listed fabric, using selected lime mortars, reclaimed bricks from elements carefully taken down on site, and new handmade bricks made to match the existing masonry.
Commercial red linear bricks by Ibstock and bespoke handmade bricks from York Handmade were used in its reconstruction.
"Our approach to Wing Mill, the fourth side of the development which had been lost to fire, was to propose a new building that completed the city block whilst remaining distinctly modern", says FCBS' Simon Branson. "To achieve this, we took inspiration from the elegantly proportioned facades of the adjacent mill buildings and constructed Wing Mill from a similar soft red brick".
In response to the loadbearing masonry walls of the mills, the new facade clearly expresses its structure and materiality. However, instead of the masonry being loadbearing, it is formed from a linear brick bonded to a precast concrete support. The layout of these panels intertwines single- and double-length units to create a weave pattern across the facade – a reference to the buildings' previous use. The linear bricks have also been adhered to the precast support in such a way that, like the existing buildings, the depth of brick is visible in the window reveals.