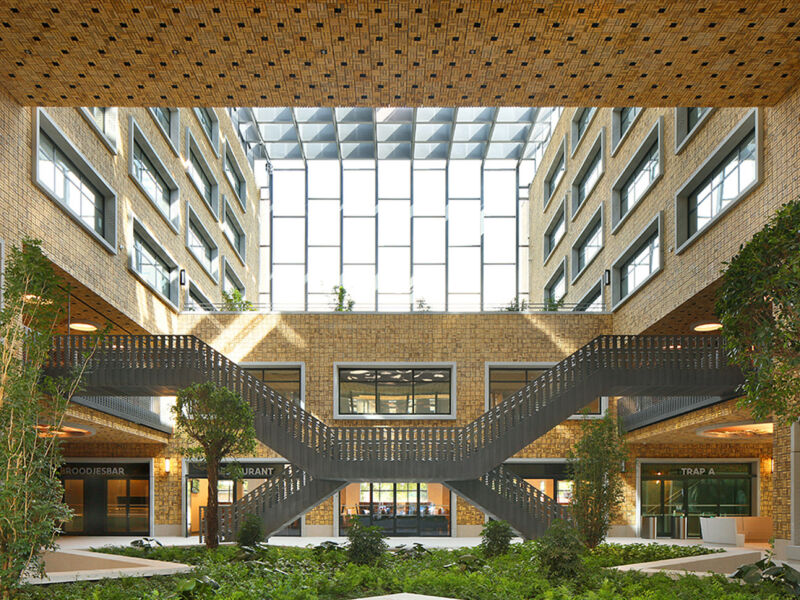 The Herman Teirlinck building, designed by Neutelings Riedijk to house ­the Flemish Government in Brussels, is the largest passive office building in Belgium. It is located in the district of Tour & Taxis, an area characterised by monumental industrial buildings from the start of the last century, and now designated as a major redevelopment zone, and features extensive brickwork, both externally and internally.
The building is prominently located along the Havenlaan and, together with the Royal Entrepot, it forms the entrance gate to the Tour & Taxis site. Flemish Government envisaged the building as an exemplar for a sustainable urban society while providing a healthy working environment for its 2600 employees.
The relatively low-rise, six-storey building, set around four winter gardens, corresponds to the heights of its neighbours. Unlike a classic office tower, which tends to offer small floor plates and limited flexibility around a central core, the compact design allows for large horizontal floors that are ideally suited for 'Activity Based Working'. The articulated built form, with wings of different depths and sizes, naturally blends with the urban blocks along the Havenlaan while containing floors of different sizes for the various departments.
A covered internal public street, which serves as the main access for the building, is aligned on the ground floor by a restaurant, cafeteria, auditoria, reception rooms, an exhibition space and sports facilities. On the first floor are meeting rooms, set around central balconies that are accessed via the monumental stairs. Two large courtyards can be used for meetings. The second to fifth floor offices are arranged around large 'greenhouses', and in a tower on the thirteenth floor overlooking the city. The four winter gardens, providing a variety of informal meeting areas and workspaces, act as 'green lungs' within the building and function as heat buffers.
The office wings are 21 metres deep, with day-lit workplaces along the external walls and areas for service facilities such as toilets, stairs, lifts, print shops and coffee corners towards the central 'nave'. This provides for future flexibility, albeit within the varied spaces of the meandering building.
The Herman Teirlinck building achieves the highest sustainability score for office buildings in accordance with the Flemish Government's valuation manual, largely due to its compact shape, high levels of insulation and airtightness, limited areas of glazing, extensive brick facades and use of recycled materials. Technical installations include heat generation via geothermics, concrete core cooling, rainwater collection, and electricity generation using photovoltaic panels.