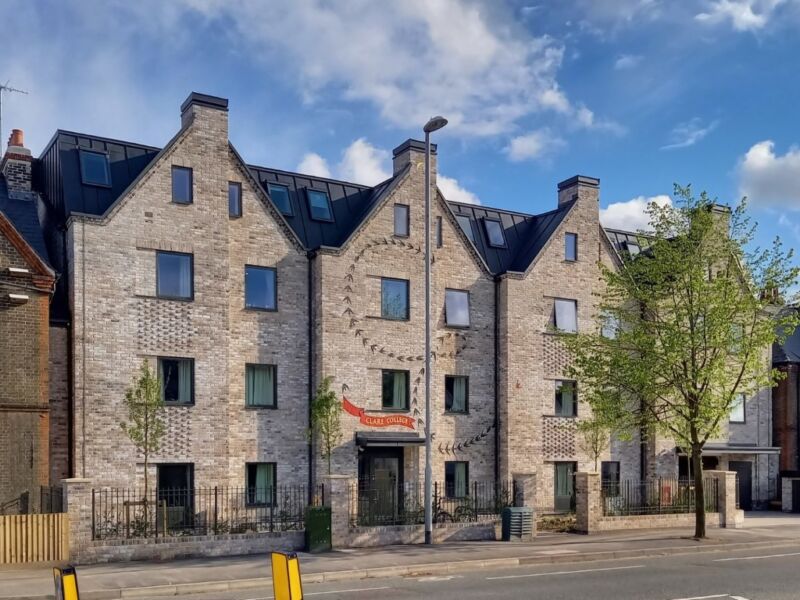 Freeland Rees Roberts Architects have completed Clare St. Regis, a mixed-use regeneration scheme for Clare College Cambridge, featuring new student accommodation and market flats. The project was driven by the need to address the poor energy performance of the existing buildings, asbestos contamination, and outdated layouts, and to provide more and improved student accommodation for the College.
An initial feasibility study to retain and refurbish the existing 1930s buildings did not achieve the required occupancy numbers and accommodation layouts, and it was decided to construct three new buildings of contemporary design, using materials that harmonise with the surrounding properties and the residential street context. A series of pitched roofs, gables and articulation of the facades ensure that the new buildings respond positively to the surrounding architectural language and the site context.
The facades of the new buildings are finished in a beige grey brick in combination with a contrasting dark grey brick for plinths and gable features. The Bricks are made by Brickmaker Quality Chartered firm, Vandersanden. Their rustic handmade appearance and rich colour palette subtly blend the new architecture into the surrounding urban fabric, which is built from traditional Cambridge brick, with new roofs and dormers clad in dark grey Zinc.
New openings are recessed into the brick facades, and soldier lintels over windows, doors and balconies have been formed with off-site prefabricated masonry support units, where full brick voussoirs are bonded into structural steel lintels. The new Schofield House on Chesterton Road is internally linked to another College property (No. 108), now the Gooder House, and provides 55 en-suite student rooms with shared kitchens, as well as the Common Room and a communal laundry. Weiss House, at the centre of the site, offers a mix of different unit types – 15 studio flats, 9 one-bedroom flats and a cluster of 6 en-suite rooms (including two fully accessible DDA units). No. 47 Hamilton Road provides 14 one- and two-bedroom market flats on four floors. Amenities include private south-facing balconies for each unit, a communal garden, covered cycle storage and 10 car parking spaces with electric charging facility.
Car parking for the student accommodation is limited to two DDA spaces, with 75 cycle spaces dotted around the site, of which 64 are covered. The previous buildings housed a small colony of swifts in vent openings on the main facades. Temporary swift boxes were provided during construction, until integrated replacement boxes on the new gables along Chesterton Road were available. The swifts also inspired the public art for the new development - Kindersley Workshop of Cambridge have carved the flight path of a swift and the College banner into the brickwork above the main entrance.
It's a carefully considered landscape scheme providing generous amenity spaces for all residents, with enhanced soft landscaping, careful boundary treatment and increased biodiversity on site. Green roofs, on-site renewable energy generation and a combined heat and power plant, together with a passive 'fabric first' approach to building construction and services contribute to the sustainability and quality of the redeveloped St. Regis site.