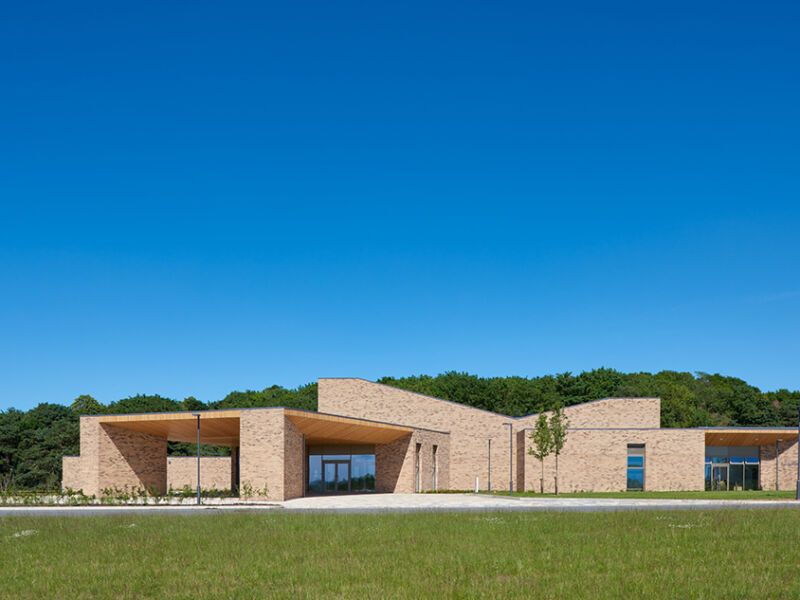 Lea Fields Crematorium is situated on a hillside site near Gainsborough in Lincolnshire. The project, which is designed by Haverstock, comprises a chapel, crematory, office, staff areas, and ancillary spaces. A generous Porte-Cochère dominates the arrival to the building, providing strong visual orientation for mourners from the car park, as well as shelter for the cortège and congregation. The floral tribute is distanced from the chapel to help to maintain the flow of mourners through the spaces and to give clarity and dignity to individual services.
The principle organising feature of the landscape design is an axis that runs across the front of the crematorium and continues out to connect the various site features, such as the memorial gardens, car parks and entrances. Responding to the topography, the axis climbs eight metres to the Chapel of Remembrance, which occupies the site's highest point. The centrally located chapel rises above the rest of the plan and is butterfly-shaped to conceal the chimney. A simple material palette consists of brick walls articulated by bronze-framed windows and timber-lined roof soffits.
The brick, which is from Forterra, was chosen for its robustness and has been rigorously detailed to create a delicate yet bold building that complements it natural surroundings. Stretcher bond is used throughout with 'cut and stick' brick specials employed at the corner of main entrance reception space. The latter were developed in collaboration with the brickwork contractor and are intended as a cost effective and short lead-in time alternative to conventional fired brick specials.