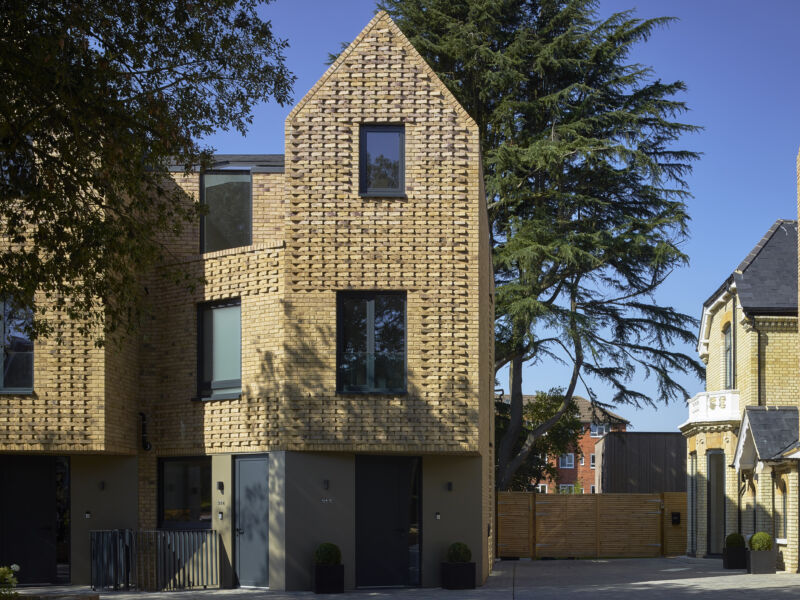 Designed by pH+, Beacon Lodge is a residential scheme located in north London. Set within mature gardens, an existing nineteenth-century brick building has been subdivided into three dwellings with all unsympathetic additions carefully stripped away. At the front of the development is a new three-storey building comprising six maisonettes. A discrete pavilion dwelling overlooks the mature garden.
The height of the maisonette block follows the topography of the road, which has a gentle downward gradient to the south and aligns with the corner of Beacon Lodge. It is articulated as three terrace units, each of which contains two maisonettes with a separate entrance at ground level. The lower dwelling is set over the ground and lower-ground floors, while the upper dwelling occupies the first and second floors. The external material palette is sympathetic to the original building, which comprises London stock brick and slate roof tiles.
The chosen cream-coloured brick and its associated detailing are designed to visually link the three buildings, while complementing the masonry facade of the existing structure. At concept stage a dogtooth brick bond found on the eaves of local buildings was selected as a secondary detail for the project. By detailing these bricks at a less acute angle than is traditionally used, the architect has been able to conceal the frog undersides resulting in improved aesthetics and robustness.
The architect worked closely with the bricklayer to further refine the facade design. As a result the dogtooth areas of brickwork are rendered as panels rather than bands, improving buildability and resulting in a higher quality finish.