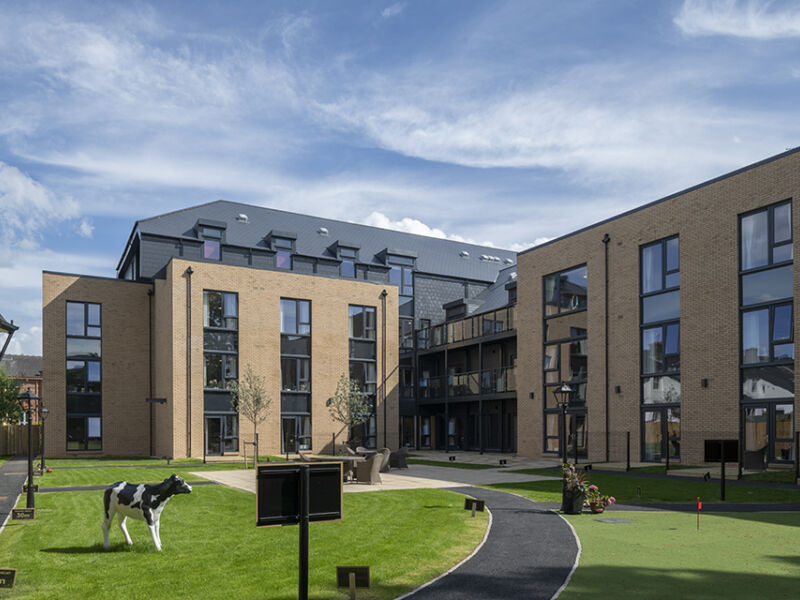 Balmoral, located on Kilmarnock Road in Giffnock, Glasgow, is a purpose-built five star luxury care home set over three and a half storeys. The neighbourhood is a well-established urban community with a rich and diverse built heritage. The immediate context and surrounding built environment is dominated by two storey residential properties. These are traditional in appearance, constructed predominantly from sandstone with slate tile roofs. This provides a strong and consistent character. The buildings typically follow the street lines and define the urban blocks. Set-backs from the street allow mature landscaping along street edges, creating a series of green corridors through which people move. This enhances the character of the area and ground the buildings within their context.
This character changes along the Kilmarnock Road, with recent developments at prominent corner plots increasing the building heights to four storeys. These act as visual landmarks, creating a hierarchy at key junctions. These developments are also more contemporary in appearance, introducing a palette of modern materials, including brick, render and metal cladding. The scheme is a simple and robust form that reflects and responds to the surrounding context, enhancing the sense of place. The care home retains the domestic residential appearance associated with care homes but with a more contemporary feel, whilst still in keeping with its context.
The plan follows a T-shape with two bedroom wings on each floor (ground, first and second). Limited set-back from the site perimeter allows a landscaped buffer to continue the green corridor along Kilmarnock Road and ground the building within its setting. A more substantial set back to Ledi Road creates space for car parking and landscaping whilst respecting the reduced scale of adjacent properties along this street.
The form, incorporating pitched roofs, sits comfortably within the adjacent residential setting. Gables are carefully articulated to provide depth and visual interest. Hipped roofs and set-backs reduce the scale of the building in response to the immediate context. The gable on the prominent corner has been expressed and articulated to create a visual landmark with presence, to highlight the main entrance to the building.
A carefully selected palette of materials have been chosen to create a dialogue with the adjacent context. The brick is Forterra's Ecostock Cathedral Cream, a multi grey-buff facing brick that provides a modern interpretation of the adjacent blonde-grey sandstone of the adjacent residences.A dark grey fibre cement slate roof cladding mirrors the slate roofs of the adjacent residences. This returns onto the vertical face to contrast with the facing brick and bring relief to the elevations. Dormer windows to the top floor articulate the building eaves, breaking up the perceived mass of the roof.
Elsewhere glazed curtain walling with a mix of clear glazing and opaque spandrel units emphasise the main building entrance and highlight public areas behind including the cocktail bar and day spaces. This contrasts with the more robust appearance of the bedroom wings and provides a visual anchor along Kilmarnock Road.