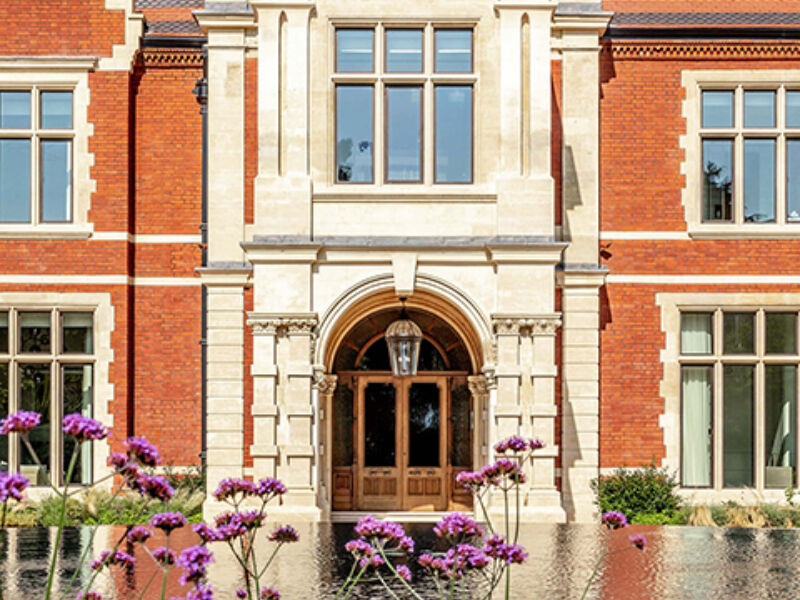 Athlone house, formally known as Caen Wood Towers was built in c. 1872 by Edward Brooke and has been residence to several important industrialists over the years such as Sir Francis Cory-Wright and Sir Robert Waley Cohen. In September 1942 the property was purchased by the RAF and officially became Royal Air Force Station Highgate and then sold onto the Ministry of Health in 1951 and used as a hospital, the hospital closed in 2003 and remained derelict until 2016 after being purchased for an estimated £65m by one of the wealthiest men in Ukraine, Athlone House has now been transformed from the derelict mansion to the impressive grande mansion estimated to be worth in excess of £130m.
Under the new ownership, extensive restorations took place to return the spectacular property to its former glory which included roofing work, major structural repairs, restoration of stonework and brickwork, replacement of perished timber, damp proofing and replacement of all windows. The original property when built was heavily influenced by blending Dutch and classical influences which is evident within the refurbishment.
Sussex Handmade Brick were delighted to work closely with SHH Architects and Marshmoor Bricks Limited on this breath-taking project as well as the renowned PAYE. Supplying over 200,000 handmade bricks and 40,000 bespoke handmade brick specials made in over 20 different bespoke shapes which made up the brick specials for the ornate chimney stacks, creating distinctive and prominent feature to the property. All the bricks were supplied in our rich Guestling Red colour to compliment the striking roof tiles made by Dreadnought Tiles.
All the bricks manufactured by Sussex Handmade Brick are made using the finest brick earth clay, extracted direct from their own quarry adjacent to the brick works, in an area of outstanding beauty. First established in 1896, the time-honoured traditional methods of brick making are still utilised, with the brick makers sanding each individual clot of clay by hand before the clay is then hand thrown into the traditional wooden moulds, with each brick produced taking on the characteristics of the maker.
Once the bricks are dry, they're graded by hand and set in the kiln where they are fired for approximately 96 hours, to a top temperature of 1060 – 1095 degrees centigrade to create the distinctive colour tones of light oranges through to plum reds. After the firing process it takes a further three days for the kiln to naturally cool. It then takes four people, two full days to empty the kiln by hand. The bricks are then graded, and hand stacked onto pallets or blended in two or more colours to create the correct colour blend for the customers requirements before being packaged for delivery.
Because of this process, the unique subtle texture from the clay as well as the traditional methods used, the bricks were hand selected to provide the closest match to the original brick works used on Athlone House when first built in 1872.