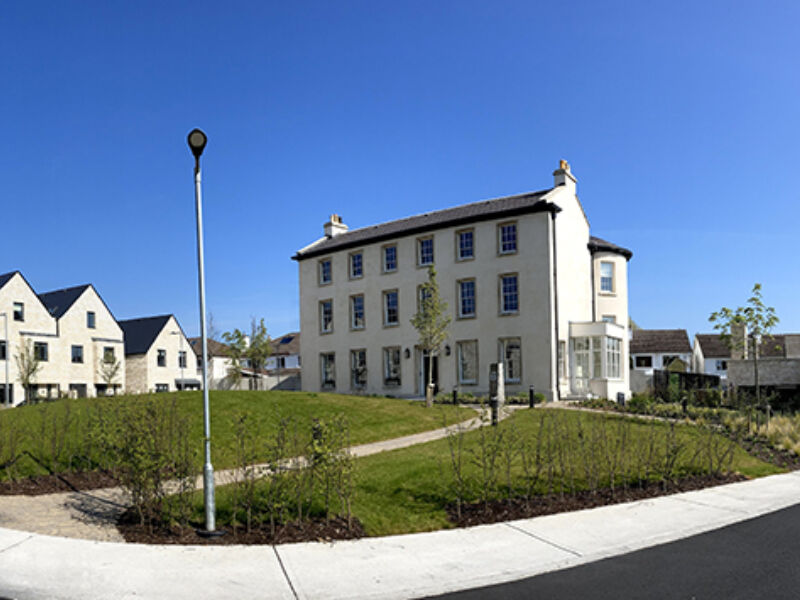 Prospect House in South Dublin dates from the 18th century, it originally commanded a landscaped demesne that has reduced over time as suburbs grew around it. Little is known of the early history of the house, which since the mid-nineteenth century was used as a college and more recently a private girls' school.
This Project creates a viable future for the site with a sensitive adaptation of the house as apartments, combined with mixed typology housing to create an appropriate and attractive landscape setting for the house.
A row of brick townhouses hold the western boundary, arranged with their gable fronts addressing the open space, with the two end houses stepping forward as break-front bookends. This composition reflects the classical formality of the house, while the expressed gables relate to the gable ends of the main front block of the house.
The brick mews-like 'gate house' dwellings on the eastern boundary are set low into the rising ground to minimise impact and with raised sections to frame views of the curved gable end of the historic house. The new brick housing using Wienerberger's popular 'Marziale' bricks, enhances the qualities and setting of the house by animating the approach road into the site and framing more appropriate vistas to and from the house.
Great care and consideration was afforded to the selection of brick used on the surrounding homes, to ensure that they did not detract from the period building. It was imperative to find a product with the right texture and colour to sit within this landscape.
While the Wienerberger brick compliments the tones of Prospect House, there is also a subtle contrast in style between the modern homes and historic building. The brick paired with a cream blend mortar gives the development a bright, timeless and edgy feel.