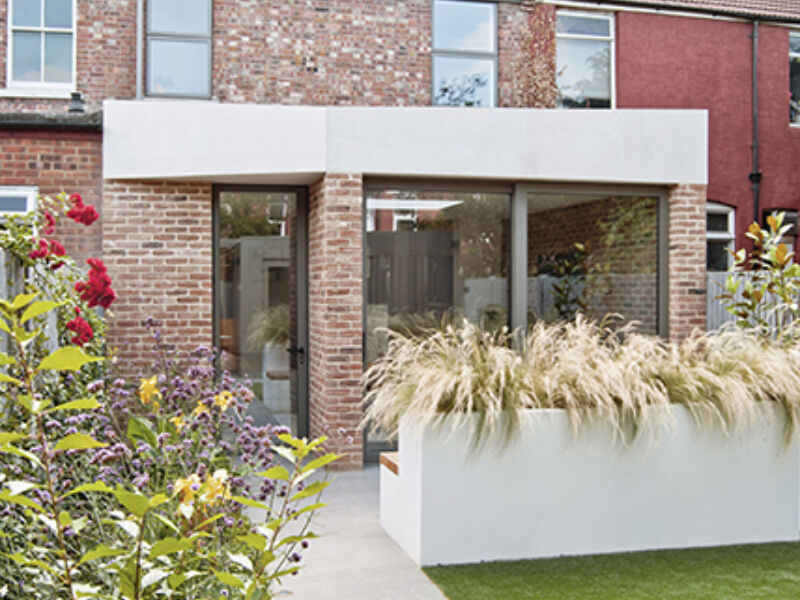 Novak Hiles Architects has completed the full renovation and extension of an Edwardian era terrace property in North West London. The practice has sought to improve and reconfigure the existing layout of the house through a series of key strategic moves, as well as enlarge it through the addition of a new sculptural ground floor rear extension and a new loft extension providing additional second floor accommodation.
The client's brief was for a flexible home that could adapt with family life over time. Collectively, the reconfigured arrangement provides an additional double bedroom, two additional bathrooms and a much enlarged, living, kitchen and dining space. The outcome is a contemporary home that is bright, adaptable and characterful, as well as being much more suited to contemporary family living.
Ample generous storage has not only been carefully incorporated into every floor of the reworked house but utilised as a device to define edges, conceal structure and offer flexibility of use.
In sustainability terms, the heavy characteristics of the materials utilised in the ground floor rear extension (informed by a requirement to respond to the language of the existing house, which the practice was only too happy to embrace) are offset through provision of an adaptive green roof, use of sustainably sourced materials and achieving considerably higher thermal performance than baseline building regulation requirements.
The house has also been substantially reconfigured on every floor. The layout has been carefully unpicked and reassembled more efficiently. The ground floor has been redefined as three different spaces that have an open relationship to one another and yet maintain their own distinct character and sense of enclosure. The practice has been keen to introduce a clear axial route from the front door right through to the rear garden. This serves to add structure to the plan but also ties together the differing ground floor spaces and improves the sense of space and freedom of movement for its occupants.
Fronted by a huge, glazed sliding door, the volume and form of the ground floor rear extension has been carefully sculpted to incorporate a set-back in plan that reinforces this axial view from the front door of the property through to the rear garden. This in turn adds definition to the dining space within and deals neatly with the relationship to a neighbouring structure.
The gently sculptural roof form chamfers in response to this staggered plan arrangement, establishing a small canopy over a separate day to day rear door. The resultant form is characterful and contemporary.
The scheme utilises a simple but elegant palette of robust contextual materials. The ground floor rear extension is comprised of soft pink tumbled-looking Hathaway Brindled clay bricks by Wienerberger with flush lime mortar and a softly pitched reconstituted stone parapet.
The interior spaces of the main house feature darker colours influenced by the Edwardian origins of the house and oak timber flooring. This contrasts with polished concrete steps leading down to the ground floor rear extension, which itself has a polished concrete floor transitioning out to the garden. The tumbled bricks continue internally, providing texture and warmth