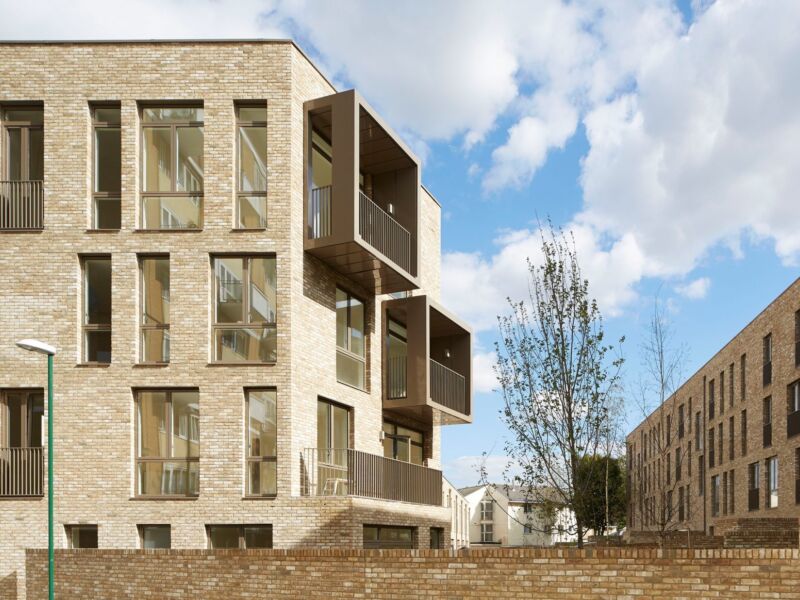 Ely Court is one of three projects by Alison Brooks Architects within the South Kilburn Estate Regeneration masterplan, one of the largest regeneration schemes in London. In total 10 architects are working on the 15-year programme, which aims to transform the area and reintegrate the estate and its community back into the fabric of the city through the provision of 2400 new homes.
Commissioned by the London Borough of Brent and Catalyst Housing, the £8.2m Ely Court provides 44 new homes intended to act as a catalyst for the social and urban transformation of the wider estate. Following an architectural competition for each phase, the council oversaw community engagement and construction in partnership with the developers. The council safeguarded the allocation of social housing – 50 per cent of flats are affordable and all existing tenants have been offered new homes.
The design reinterprets the block-and-street urban grain that characterised the area before its post-war redevelopment with residential blocks set in open space. The 6,500-square-metre project defines a new 400-square-metre garden square in front of the 1960s Alpha House, and draws on the varied context, which includes Victorian semi-detached villas, 1960s blocks, a Salvation Army centre and a former pub.
Four building types have been conceived, all built in brick but with differing scales and organisation: Terrace, Mews, Link Block and Flatiron. The tenures are half social and half private with most units exceeding the London Housing Design Guide standards. All the typologies provide light, spacious units with a generous 2.6-metre floor-to-ceiling height and full-height French doors.
The Terrace references the nineteenth-century mansion blocks of nearby Maida Vale, but adapts the typology to include two-storey maisonettes on the ground floor with apartments above. A rhythmic composition of front porticos, upper porticos and recessed balconies creates a highly articulated street facade.
Running parallel with the Terrace, the eight-house Alpha Mews introduces a finer grain of development, drawing pedestrians and vehicles into what was previously an under-used space between slab blocks and forming a new green spine. The serrated roofscape allows additional sunlight into the homes.
"The more active street elevations ensure that public spaces are all well overlooked by windows, residents' balconies and roof gardens" says Alison Brooks of Alison Brooks Architects. "The scheme demonstrates the ability of a Local Authority to lead the process of enlightened city building, by commissioning and delivering housing of the highest calibre to integrate previously segregated communities."