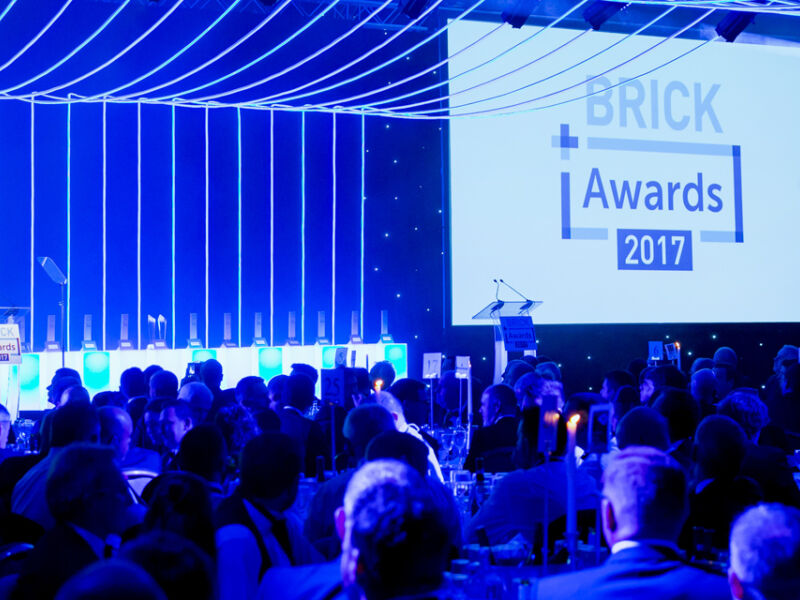 View the winners' gallery here
The annual Brick Awards celebrated its 41st year on the evening of Thursday 9th November at the Hilton, Park Lane, London. 600 guests were welcomed by champagne reception before enjoying a 5* 3-course meal in preparation for the evening's celebrations and entertainment, the heart of which was the announcement of 16 category winners of this coveted industry award.
Celebrity impressionist and comedian, Jon Culshaw, ensured a suitably dynamic atmosphere and as ever, the anticipation of some of our most talented professionals made for an electric start to the ceremony.
The successful projects, published here, enjoyed an exceptionally supportive audience, most of whom discovered an entire night's worth of entertainment to follow, such as a live band, a (very busy) dance floor, 'fun money' casino, photo booth and more. Not to mention the incredible £9,000+ raised for this year's named charity, Jericho Foundation.
But who was celebrating and for what exactly? Read on to find out who received their Brick Awards 2017…
The title of Supreme Winner was awarded to Maccreanor Lavington's South Gardens, which also picked up the title of best Large Housing Development. Judges were almost unanimous in their decision to crown South Gardens as this year's Supreme Winner praising the project for the way brick was used to make each block of the development unique. Brick not only allowed the opportunity for creating a wide range of expressive detailing but also reinforced the sense of certainty and comfort synonymous with brick-built homes. The project is the first phase of Elephant Park, a major regeneration project in Elephant and Castle that sees the demolition of the former Heygate Estate. The development's specification of UK-manufactured bricks from three of the country's leading manufacturers, Ibstock, Michelmersh and Wienerberger, is testament to Britain's manufacturing quality. To hear first-hand from Founding Director of Maccreanor Lavington, Gerard Lavington, view his interview here.
The task of shortlisting the entrants fell to a panel of experienced architects, planners, brickwork contractors and industry experts, who produced a final shortlist of 84 projects. The winning projects showcase the potential of brick in modern architecture and design, displaying a variety of use and vision.
'The winning schemes in this year's 2017 Brick Awards continue to illustrate the versatility of brick as a material for shaping our towns and cities. They also demonstrate increasing innovation and experimentation; essential in breaking new ground and tackling issues of affordability and environmental sustainability' Joe Morris, Duggan Morris Architects and Brick Awards 2017 Head Judge.
Among the winning projects was, Victoria Gate Arcade by ACME, collecting the prize for Best Commercial Building.  The latest of Leeds' landmarks is a project of such scale and complexity that 3D software was used to plot and place every individual brick. There were approximately 360,000 used in total across 550 precast panels, which include Ketley's bespoke bricks and specials in a blend of light and dark, as well as brick slips. The project is a fine example of the way in which precast technologies can complement the specification and application of established building products. The innovative design of pleated brickwork sits harmoniously with the richly textured historic brick of the surrounding architecture.
Following a regional theme, Sheffield Hallam University by Bond Bryan Architects took centre stage in the Education Building category. This locale-inspired project has been delivered to exceptional quality, demonstrating great versatility for teaching and study.
From commercial and education to regenerative, this year's finalists blew away the judges with Dujardin Mews and Time Keepers Square being named joint-winners in the Urban Regeneration Project category. Both projects see the renewal of areas in need, with Time Keepers Square sensitively keeping Salford up to date and Dujardin Mews being the first council housing scheme in Enfield for 40 years. Indeed, the project was described as that which 'council housing can and should be'. Both use brick to blend in with the surrounding environment and managing to pay homage to the history of their settings. 
The Brick Awards also facilitates the Architects' Choice category, which is a peer-voted-for category. This year saw a record number of entrants with Russell Jones Architects', Mews House claiming the top spot among all shortlisted projects. The project was designed with an economy of space, which required close attention to the balance between spatial means and design potential. The quality of the brickwork is complemented through the use of a carefully selected mortar, using white cement, lime and washed river sand, and a subtle manipulation of the surface texture using a method known in Scandinavia as 'Sækkeskuring'. With a material palette and a design kept intentionally monochrome and uncomplicated, this compact two bedroom mews house now boasts a simple, striking finish.
Winners in full
Winners' Brochure available to download here
Supreme Winner
South Gardens – London – WINNER
Individual Housing Develoment
Modern Detached – St Albans - WINNER
Pennycroft – High Wycombe - WINNER
Small Housing Development
Barrett's Grove – London – WINNER
Salesian House - London – COMMENDATION
Large Housing Development
South Gardens – London – WINNER
Aldgate Place – London – COMMENDATION
Large House Builder
Barratt London – London - WINNER
Urban Regeneration Project
Dujardin Mews – Enfield – WINNER
Timekeepers Square – Manchester -WINNER
Vitoria Gate Arcade – LEEDS – COMMENDATION
Commercial Building
Vitoria Gate Arcade – LEEDS – WINNER
M&S Foodhall – Northallerton - COMMENDATION
Best Public Building
Storyhouse, Chester – Chester – WINNER
West Croydon Bus Station – Croydon – COMMENDATION
Best Education Building
Sheffield Hallam University – Sheffield – WINNER
Abingdon School – COMMENDATION
Best Refurbishment Project
Queens University – Belfast – WINNER
Brighton Collage – COMMENDATION
Outdoor Space
West Croydon Bus Station – Croydon – WINNER
Innovative Use of Brick and Clay Products
Vitoria Gate Arcade – LEEDS – WINNER
Barrett's Grove – London – COMMENDATION
Craftsmanship
Lady Margaret Hall – Oxford – WINNER
Specialist Brickwork Contractor
Lee Marley Brickwork Ltd (South Gardens and Lady Margaret Hall)
Worldwide
The Old Church of Vilanova da la Barca – Spain – WINNER
Garden Halls – London – HIGHLY COMMENDED
Campus Hall, University of Southern Denmark – Denmark - COMMENDATION
--------------------------------------------------------------------------------------------------------------------
In its 41st year the 2017 Brick Awards saw the largest volume of entries to date with 325 projects entered across 14 categories. With more outstanding entries than ever, the Brick Awards showcases the very best projects using UK member-manufactured bricks. With the quality of projects to this prestigious event always being of the highest calibre, this year was no exception.
Although all worthy winners the real success of the 2017 Brick Awards was the strength of the shortlist, proving that time and again brick evidences its role as the number one choice in design and build. This year saw more innovative approaches to the material and even more stunning results, not only championing the familiarity of brick but also the opportunity to use it in unique, forward thinking ways.