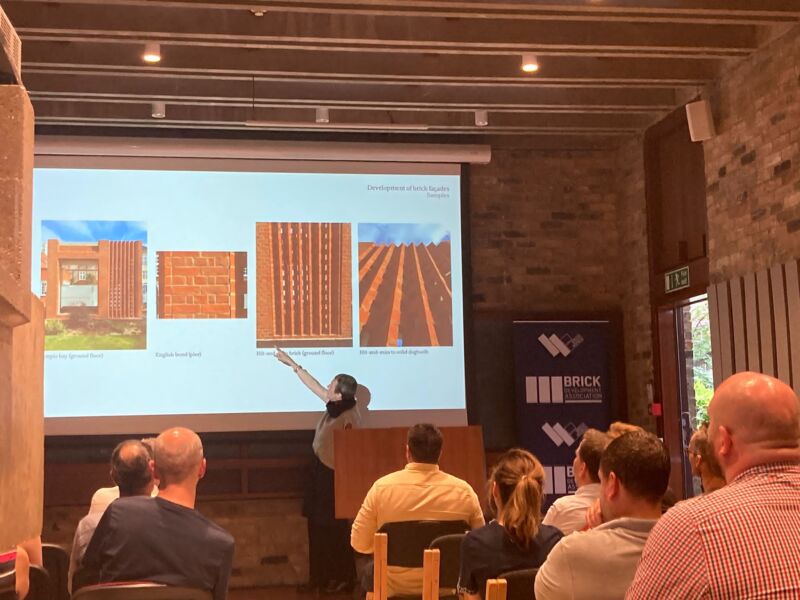 What an incredible evening had by all at our recent Brickworks event hosted at The University of Cambridge Department of Architecture!


A big thank you to everyone who joined us, with a special thanks to our outstanding speakers: James Campbell, Head of Department of Architecture at the University of Cambridge; Josh Greig from Purcell; and Cindy Walters from Walters & Cohen Architects. They delivered three captivating and insightful presentations.
James W P Campbell
It was a privilege to hear from one of the world's leading authorities on the history of clay brick, Dr James W.P. Campbell, Reader in Architecture and Construction History, Queens' College (Fellow) and Director of Studies both for Queens' and Trinity. James drew from his depth of knowledge and experience travelling to the biggest and best brick architecture projects around the world.  James first book, Brick: A World History, which is still in print and widely celebrated.
Cindy Walters - Walters & Cohen Architects The Dorothy Garrod Building, Newnham College
The Dorothy Garrod Building provided a fantastic presentation on Newnham College. With 86 new ensuite student bedrooms, a new entrance and welcoming Porters' Lodge, conference facilities, rooftop gym, staff offices, meeting and supervision rooms, student kitchen/social areas with plenty of space to cook and eat together, and a new café. The client also wanted the building to present a new 'face' of the College to Sidgwick Avenue; Dr Judy Quinn of Newnham College said: 'Throughout the project, the architects were able to combine their design vision with a tireless capacity for engaging with [Newnham] in order to keep the focus on the value of using durable materials and on finding the right suppliers of products. An example of the value to the College of that commitment is the delicate brickwork that is now a distinctive feature of the facade, much appreciated by the College community and much applauded by members of the public.'
Josh Greig - Purcell Architects - Radley College Chapel
Josh Finished the evening will presenting  Riba and Brick Award winning project. Purcell's expansion of Radley College's Grade II*-listed chapel includes a new sanctuary with an octagonal plan form and roof lantern formed of self-supporting curved structural glass

Radley College is an independent boarding school for 690 boys aged 13-18, founded in 1847 by the Reverends W Sewell and RC Singleton with the aim of providing a quality Church of England education against a 'background of cultural influence in aesthetic surroundings'.