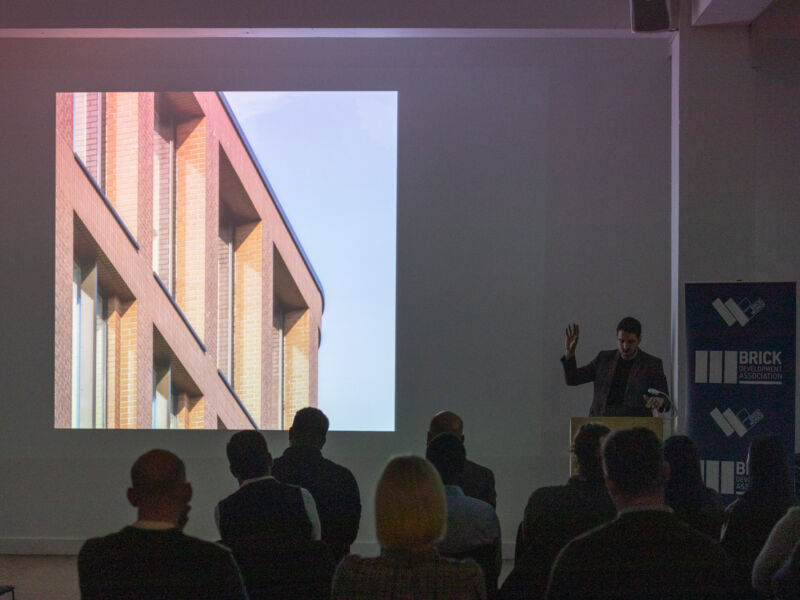 This Brick Works 2022 Birmingham event took place at the Glen Howells Studio Birmingham.
Brick Works is a series of relaxed, highly informative evenings, which offer practitioners an opportunity to explore examples of contemporary brick architecture, to network with peers and, to add clay brick to your calendar of continuing professional development (CPD). A relaxed atmosphere is complemented by canapés and drinks with plenty of time in which to discuss the projects with the presenters and other attendees.
The Line up
i9, Wolverhampton Interchange by GHA - Fraser Godfrey
The i9 design pays homage to the industrial characteristics of Wolverhampton's red-brick Victorian architecture with bull-nose, curved glass corners addressing key approaches and deep brickwork piers helping to shade the building and articulate its tripartite proportions. The strong vertical expression of brickwork piers creates a striking yet complimentary addition to the family of buildings at this important intersection which includes the Grade II listed Chubb Building and Prince Albert public house.
Lime kiln-inspired rural homes, Shropshire by Aaron Chetwynd Architect Studio
Controversial design for three homes and a utility building, which will have solar panels be supplied with hot water and heating from a central boiler, takes inspiration from nearby historic lime kilns, and explores the relationship between architecture and nature. The scheme 'celebrates the local heritage and cultural history, in a relevant and contemporary way.