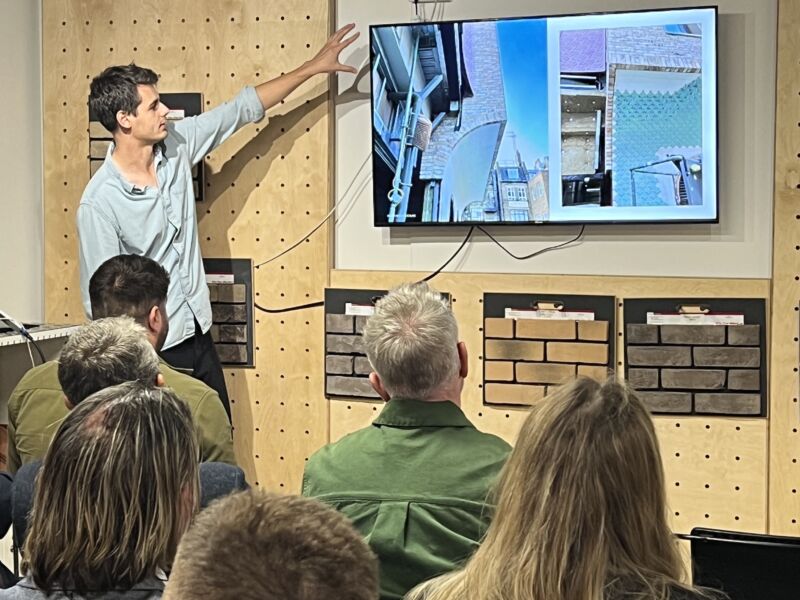 A Great evening was had at the Wienerberger Show room at the Business Design Centre London!


The Line up 
Steven Clarke - Chelwood by Napier Clarke Architects
Chelwood is a large modern contextual family home in Chesham Bois, Amersham. The brief was to replace the relatively 'bland' existing suburban house with a house that responded to the surrounding local vernacular and context. The house is located in an area of special character, therefore the rhythm and scale of the house needed to fit in with the suburban street. The use of handmade local red brick and local charred timber, reminiscent of the existing building. The planners and neighbours were accepting of the proposal.
Christian Wren - Ilona Rose House by MATT Architecture
Ilona Rose House is a 325,000 sq.ft new-build mixed-use project located in Soho, London. The development is on the site of the old Foyles bookshop, spanning between Charing Cross Road and Greek Street. The buildings on the site are typified by a highly decorative, rich material palette that includes pink GRC panels patterned with a moulded rose motif, patinated brass panels the form sweeping gold scoops, rose-shaped ceramic tiles in Wedgewood blue and Yorkstone paving. However our most ambitious façade treatment was our distinctive use of brick, which has set the bar for innovation in the use of brickwork and masonry support systems in the UK.
Daniel Woolfson - The Arches by DHaus
The Arches is a set of 6 new terraced town houses set in the Dartmouth Park conservation area in North-West London. The initial design idea was inspired by the historic green lung of open green spaces along the Highgate road, our earliest discussion with Camden was to relink the 2 open public green spaces either side of the site. This meant reinstating the green lung as close to how it was back in 1873. A futuristic Victorian throw back!