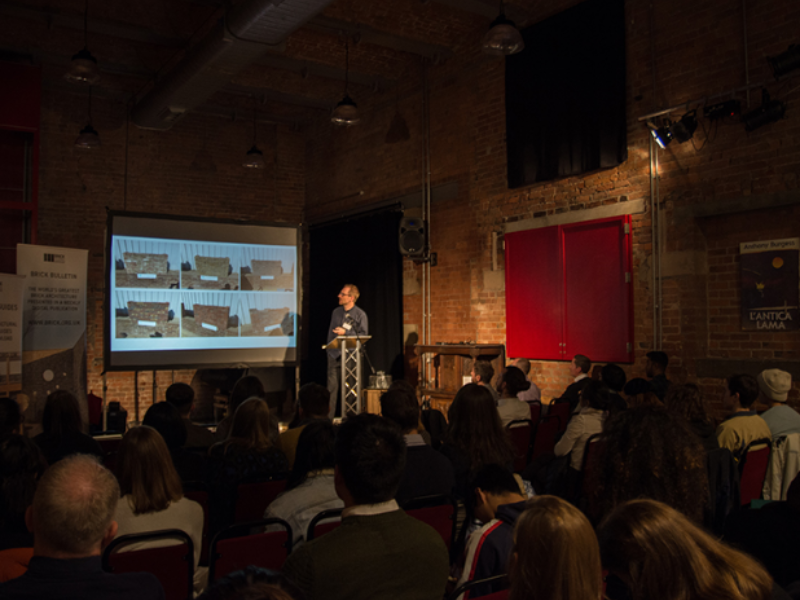 Following the success of the first Brick Works events in Manchester last year, we were delighted to partner again with the Manchester Student Society of Architecture (MSSA) and delivered our regional Brick Works event in Manchester on Monday 21st October 2019, to present cutting-edge examples of contemporary brick architecture.

Hosted at the International Anthony Burgess Foundation, Manchester and featured in the MSSA's Before You're Thirty (BY30) series, the evening provided in-depth case studies presented by some of the most respected figures in the architectural community.
Rob Bearyman, Associate Director of Bennetts Associates, presented the Royal College of Pathologists: The Royal College of Pathologists has moved into its new 4,500-square-metre headquarters in East London, designed by Bennetts Associates. Offset by concrete and timber, brickwork features prominently in the building, which marks the final phase in the college's relocation from a grade-one listed building in central London to contrastingly contemporary purpose-built premises.
Stuart McGrath, Associate Architects at OMI Architects, presented Baker Place: an apartment development in Hulme, Manchester, delivered for One Manchester, a social landlord with an established base and stock in the area, the scheme places strong emphasis on the well-being of residents through a focus on daylighting, landscape, generous private and communal external spaces and sustainability.
Matt Ollier, Director at Ollier Smurthwaite Architects, presented Roof Gardens: the project is a direct response to the question of how sustainable, high density family dwellings can be delivered within a historic urban environment. The scheme includes a total of 71 dwellings in a mix of sizes from 1-4 bedrooms, all with access to private external roof terraces. The site is located on the South Western side of Manchester city centre, adjacent to the the Castlefield Conservation Area and the Grade II* listed Church of St George.