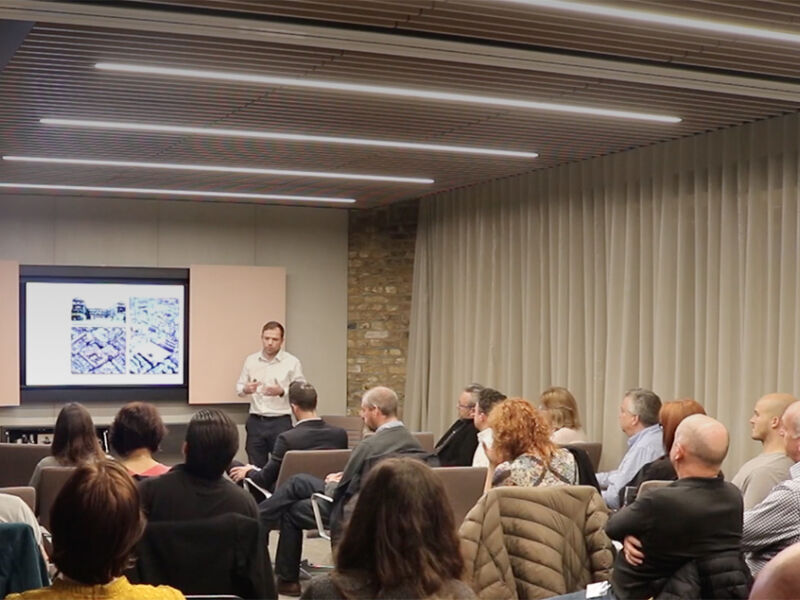 The second event in this year's Brick Works series took place in London on Thursday 21st March 2019, showcasing through case studies the best of contemporary brick architecture.
The evening event, hosted by Sheppard Robson in Camden Town, saw some of the most respected figures in the architectural community presenting their award-winning projects.
Sheppard Robson compared the use of bricks in two different projects: Fitzroy Place presented by Dan Burr, Partner, and Nick Hacking, Associate Partner, while Tom Kyle, Associate, presented Camden Courtyards.
Fitzroy Place is a rare opportunity to redefine an urban block in the heart of London's West End. Working with a predominantly cleared site left by the demolition and relocation of the Middlesex Hospital, Sheppard Robson and Lifschutz Davidson Sandilands have collaborated to deliver a thoroughly mixed-use project, a complementary 'family' of buildings in an architectural vernacular that speaks distinctly of Fitzrovia.
Camden Courtyards is a fully residential scheme on a prominent site in Camden Town. Sheppard Robson was appointed by Barratt in 2013 with a brief for a split of 50% private and 50% affordable. This led to a concept of a double courtyard scheme with the building in the form of an S shape. The dimensions of the site lend themselves to narrow blocks which allows for dual-aspect apartments.
Jordan Perlman, Co-Director of Newground Architects, presented Rehearsal Rooms, shortlisted in the 'Large Housing Development' category at the Brick Awards 2018. In this high-density mixed-use development, the architects set out to show that comfortable, affordable and sustainable housing can be achieved with a modest budget through considered design and specification. At Rehearsal Rooms, a build-to-rent scheme for the private rented sector, residents are forming a real community. The development in the Royal Oak Opportunity Area forms part of an emerging vibrant neighbourhood around the North Acton Underground station.
Paul Jolly, Associate Director at Dixon Jones, presented the Marlborough Primary School project which won the education category at the 2018 Brick Awards. The scheme replaces an outmoded Victorian school which had stood on the site since 1878. The challenging design brief for a larger school and a separate commercial building required a significant increase in density on this constrained urban site which informed the key concept of a vertical school arranged across a series of cascading garden roof terraces. The project was also recently awarded the School Project of the Year at the AJ Architecture Awards.
We thank everybody who attended the event.