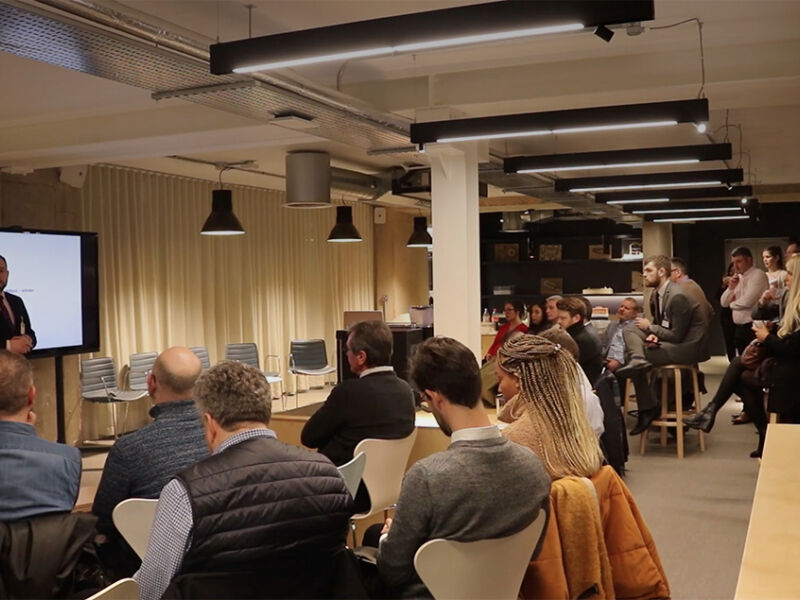 The first London event in our Brick Works 2019 series took place on Thursday 24th January 2019 in Camberwell, showcasing through case studies some exemplary brick projects.
The evening event, hosted by Jestico+Whiles, saw some of the most respected figures in the architectural community presenting their award-winning projects.
Heinz Richardson, Director of Jestico+Whiles, presented the Greenwich Millennium Village: initiated by Ralph Erskine, the final phases complete and update the masterplan, generating a complex and picturesque arrangement of buildings defined by streets and squares, providing 1,746 homes. The design offers a human-scale, that incorporates a mixture of townhouses and apartments in lower rise buildings of between three and five storeys, to focus strongly on street life whilst deftly resolving the onerous acoustic challenges imposed by the neighbouring aggregates wharf operations.
David Gouldstone, Director of Peter Barber Architects, presented Ordnance Road, shortlisted in the 'Small Housing Development' category at the Brick Awards 2018. Ordnance Road comprises 15 socially rented units, as a row of elegant three storey town houses in the front and single storey courtyard houses behind. As stated by the Brick Awards judges, 'Such a wonderful contribution to a typical London environment of all different shapes, sizes, uses and designs. The project has added another variation to the surroundings, which practically illuminated the street! Really great design and materials. A pleasure."
Gerard Maccreanor, Founding Director of MaccreanorLavington, presented Blackfriars Circus together with Colin Wharry, Associate: highly commened in the Large Housing Development category, this 1.02 ha site comprises five mixed-use buildings transforming St George's Circus into a new destination for retail, eating and leisure activities, creating a neighbourhood public space. Brick Awards judges commented that 'This is a most impressive development in which the subtle use of brickwork has generated great quality. Careful detailing reduces the scale of the individual buildings to human proportions - will generate an agreeable living environment.'
We thank everybody who attended the event.