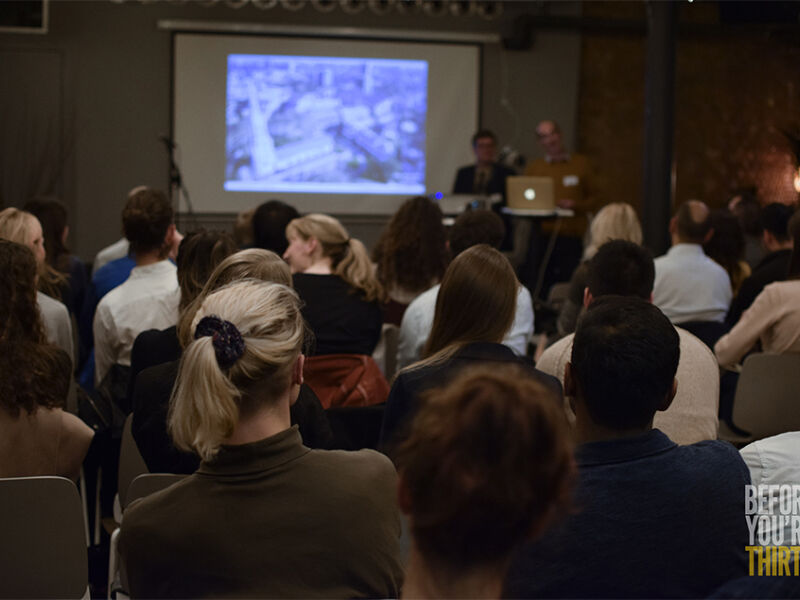 Following the success of the Brick Works series in London, the Brick Development Association was delighted to partner with the Manchester Student Society of Architecture (MSSA) and delivered the first regional Brick Works event in Manchester on Wednesday 24th October 2018, to present cutting-edge examples of contemporary brick architecture.
Hosted at the LEAF on Portland Street, Manchester and featured in the MSSA's Before You're Thirty (BY30) series, the evening provided in-depth case studies presented by some of the most respected figures in the architectural community.
Alex Whitbread, Partner of Feilden Clegg Bradley Studios, presented the New Mildmay project in London, together with Alex Sherratt, Partner of Matthew Lloyd Architects. The scheme, shortlisted for an Urban Regeneration Brick Award, was fifteen years in development and has transformed a corner of Hackney with a complementary scheme of residential, social, commercial and community facilities, fully integrating the scheme in to this vibrant, characterful area.
Adam Gray, Senior Associate of OMI Architects, presented the Wilburn Basin project in Manchester. This key Salford siteon the River Irwell lies at the intersection of major City Centre rail and vehicular transport links and forms part of the Irwell City Park regeneration initiative. The scheme is laid out in four apartment blocks arranged around an attractive landscaped courtyard and restored quayside. The grouping places the historic Wilburn Basin at the heart of the development.
Mike Riley, Architect Associate of BDP, presented the Oldham Town Hall project. Appointed by Oldham Council to regenerate this Grade II listed building and bring the building back into use as a cinema, the development ensures certain architectural features and decorations are retained, conserving as much of the historic fabric as possible. The existing ballroom, council chamber, committee rooms and court rooms have been kept and transformed into cinema screens, while a new extension – a translucent glass light-box – creates a new façade on Clegg Street, adding to an active, animated street environment.
We thank everybody who attended the event.