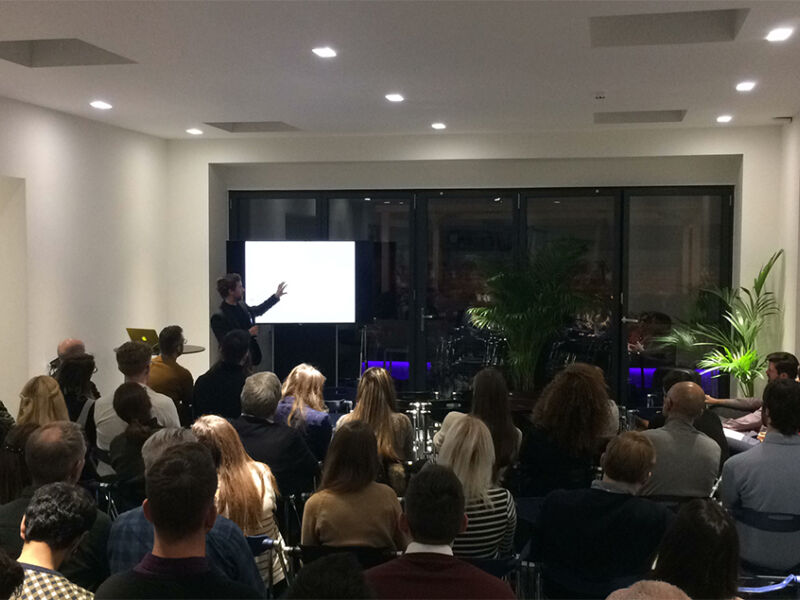 Following the success of the Brick Works series in London and the first regional event in Manchester, the Brick Development Association was delighted to partner with RIBA West Midlands and Birmingham Architectural Association (BAA) and delivered the first regional Brick Works event in Birmingham on Thursday 22nd November 2018, to present cutting-edge examples of contemporary brick architecture.
Hosted at the Allermuir Design Destination (Sovereign Hall), Frederick Street in the Jewellery Quarter of Birmingham, the evening provided in-depth case studies presented by some of the most respected figures in the architectural community.
Lloyd Spencer, Associate of Allford Hall Monaghan Morris, presented the Television Centre in London. This Grade II listed site was the first purpose-built television studio in the country and is to be reinvented under a site-wide Masterplan regeneration as a new, fully mixed-use development. The vision is to reinvent Television Centre as an integral part of the local area. The Masterplan will open up the site to the public for the first time and connect it to the surrounding area.

Tom Jarman, Partner of Feilden Clegg Bradley Studios, presented the Royal Birmingham Conservatoire. The Conservatoire's new state-of-the-art home is the first purpose-built music college to be constructed in the UK since 1987 and is the only one in the country which has been specifically designed to cater for the demands of the digital age. It houses five performance venues as well as 70 practice rooms of various sizes.

Daniel Mulligan, Birmingham Studio Director of Glenn Howells, presented London City Island. GHA has used strongly coloured structural frames for ten residential blocks to provide a cohesive identity for this distinctive, fine-grained island community. It is located on a 4.7 ha brownfield site on a peninsula between the River Lea and the Thames. Key to the development is striking the balance between residential and active daytime uses, which has led to a complex mix of workspaces that will bring a range of makers and artists to the island.

Mark Evans, Associate Director at Broadway Malyan, presented Coventry University. This new state-of-the-art Science and Health Building forms part of the creation of their new city centre Health and Life Sciences Quadrant, continuing a major investment programme to drive the University's reputation as a centre of excellence for learning and research. Sensitively designed to complement Coventry's surrounding urban grain and heritage, the design features a minimal material palette with handmade brick interacting with strong exposed concrete columns and soft timber wrapping.
We thank everybody who attended the event.